Michelin Expands Tweel Airless Radial Line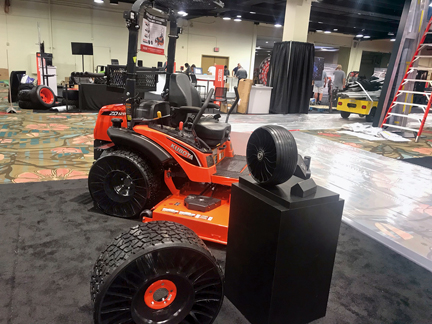 Michelin North America, Inc., is pumping up its Tweel airless radial line. At the Green Industry Expo (GIE) held October 17-19, 2018 in Louisville, Kentucky, Michelin introduced new products to its TURF and UTV lines. Three of these additions feature 5-4.5'' bolt-pattern configurations: a 24'' TURF size for zero-turn radius (ZTR) mowers, a 26'' TURF size for ZTR, and a 13'' ZTR caster design with improved performance and stability.
"Michelin is listening and responding to customer requests. With the new bolt-pattern hub configuration comprising over half of the total commercial ZTR market, Michelin responded with these new offers in our award-winning airless tire product line," said Olivier Brauen, vice president of Michelin Tweel Technologies.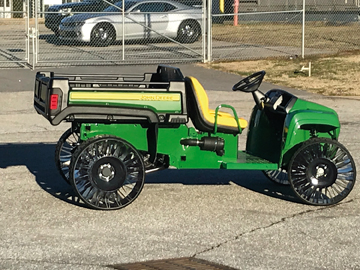 Operators of ZTR mowers using 24" rear tire/wheels will be able to buy the MICHELIN® X® TWEEL® TURF no-compromise airless solution for their commercial mowers in limited quantities by the end of 2018. The 26" MICHELIN® X® TWEEL® TURF is now available. The redesigned MICHELIN® X® TWEEL® TURF Caster is available immediately in the 13x6.5N6 size, the new configuration is designed to provide enhanced performance and more stability with its flat, smooth design, fitting a larger range of mowers than the current ribbed version.
The new MICHELIN® X® TWEEL® UTV 26x9N14 airless radial tire with 5-4.5 inch and 4-110 mm bolt-patterns designed for use on ATVs and UTVs will be sold as fitments for the John Deere, Honda, Kubota, Yamaha and Argo replacement market. With a 80 km/h speed rating at a maximum gross vehicle weight of 1,297 kg, the 26" UTV will be available in limited quantities by the end of 2018 for a variety of machines.
"Our production facility is primed for increasing our portfolio and has been manufacturing these new products for customers to boost their productivity and bottom line," said Mr. Brauen.
Source: Michelin North America