SMS Equipment Now Selling new Komatsu WA480-8 Wheel Loader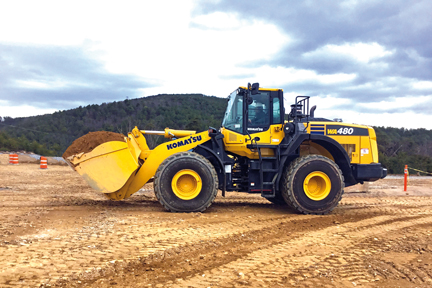 SMS Equipment Inc., one of the world's largest Komatsu dealers now sells and supports the newest Tier 4 Final WA480-8 Komatsu wheel loader.  The WA480-8 features higher production, lower fuel costs, improved operator comfort, and enhanced serviceability;  it is almost 8% more productive than the previous model featuring a new bucket design with curves on the side wall to improve pile penetration and material retention.
"The WA480-8 is the perfect tool for quarry, infrastructure and non-residential construction applications," said Craig McGinnis, product marketing manager, Komatsu America. "It's the perfect three-pass loader for on-highway trucks and hoppers."
 

The 299 hp, 11.04 l, EPA Tier 4 final certified, SAA6D125E-7 engine uses up to 20% less fuel than its Tier 3 predecessor. Komatsu's SmartLoader Logic, combined with the lockup torque converter that activates in 2nd, 3rd and 4th gear, provides optimal engine torque for improved acceleration, hill-climbing ability, a higher top speed and fuel savings.
Inside the cab, the Advanced Joystick Steering System (AJSS) eliminates the steering wheel for improved forward visibility and operator comfort while allowing the machine to operate at full speed. An integrated load meter system displays data directly to the machine's main monitor and remotely via KOMTRAX. Load sub-total and cancel functions available via buttons integrated into the machine work levers.  Load meter is only available on two-lever, two-valve machine configurations.
A new bucket design improves overall machine productivity. Generous curves on the side wall and wrap improve pile penetration, make it easy to fill, and improve material retention in carry operations. The new auto dig system controls bucket tilt and lifting by sensing pressure applied to the work equipment. The system can reduce operator fatigue and optimize bucket load.
SMS Equipment partners with world-renowned brands including Komatsu, providing equipment sales and services to the construction, mining, forestry and utility industries through its network of over 35 branches across Canada, Alaska, and Mongolia. SMS Equipment promotes advanced equipment technologies resulting in cleaner, more efficient ways to build communities, create infrastructure and develop resources.
Source: SMS Equipment inc.