New Options for Cat® 918M Compact Wheel Loader Include High-Lift Linkage, Fusion Couplers, Guarding, Larger Tires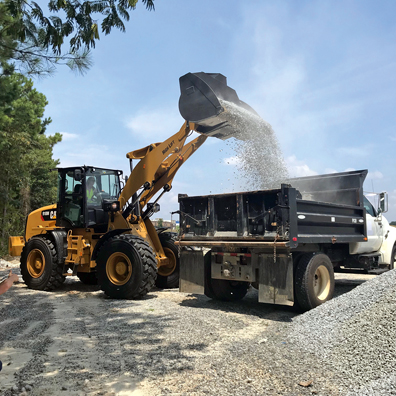 Caterpillar now offers the 918M compact wheel loader with 4 new options: high-lift loader linkage, Cat Fusion™ coupler, 5-piece guarding package and wider tires.
The new high-lift linkage option is designed specifically for applications in waste and recycling, agriculture, and construction that can benefit from increased lift height and increased reach of the loader linkage. The newly designed loader arm assembly can provide up to 10% more lift height and reach compared with the standard loader linkage equipped with a similar work tool interface whether pin-on, IT (Integrated Tool Carrier) coupler or ISO coupler. A 918M configured with both a high-lift linkage and 20.5 tires will have a bucket pin height over 4.1 m.
With the addition of the Caterpillar designed Fusion Coupler System to the 918M's option list, buyers now have the choice of 3 couplers. Designed for optimum performance and long-term durability, the Fusion coupler uses an advanced constant pressure wedging mechanism to create a tight, rattle-free fit with work tools.
The patented locking system eliminates the play (relative motion between coupler and work tool) and thus eliminates the wear that can result from this movement. The Fusion coupler is designed to apply constant hydraulic pressure to wedges that continually pull the work tool tight to the coupler in 2 directions, in and down, providing secure tool control and increased productivity. The coupler is available for Fusion-compatible work tool attachments.
Compared to the standard 17.5R25 tires, new 20.5R25 tires for the 918M offer a number of benefits including up to 20% more tire life and increases in traction, stability, and tipping capacity – all resulting in reduced operating costs.
Available for the North American market, the 3 new tire options include the general-application Goodyear E/L-2A "Sure Grip Loader", a 12-ply-rated bias tire with directional and self-cleaning tread; the Michelin "Xsnoplus", specially designed for operation on snow and ice, and incorporating a non-directional tread pattern with excellent self-cleaning characteristics; and the Michelin XHA2 radial, a wide-lug tire with non-directional tread, heavy shoulders, and protected sidewalls for heavy-duty applications.
Width-over-tires is approximately 2,3 m for the larger 20.5R25 tires. All 3 tire options must be used with the Fusion coupler or with the optional high-lift loader linkage to ensure that work tools rest level on the ground. An oscillation limiter eliminates tire-to-fender interference.
The new guarding options, which can be used with currently available steel-front fender deflectors, provides protection for vulnerable areas such as headlights, articulation point, transmission and related components, front driveshaft and the oil pan.
Source: Caterpillar