Innovative JCB Products at ICUEE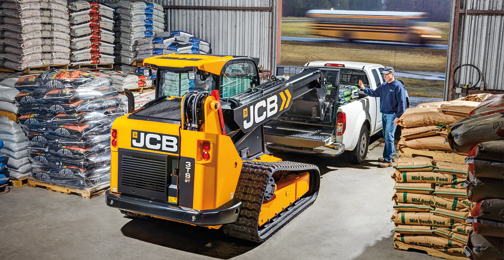 JCB displayed its Teleskid, Hydradig 110W tool carrier, 3CX Compact backhoe loader and 48Z-1 compact excavator, at the 2017 International Construction and Utility Equipment Exposition (ICUEE) in Louisville, Kentucky, last October. The company also demonstrated its 509-45 Loadall telescopic handler with a radio remote-control work platform and previewed its new 503-13 Loadall sub-compact telehandler, which will be launched in 2018.
"JCB is a full-line construction equipment manufacturer, offering more than 300 products from skids steers to telehandlers, and backhoes to excavators," said Ben Coleman, general manager of Product and Direct Sales for JCB North America. "The JCB machines on display at ICUEE 2017, including the Teleskid and Hydradig, are game-changers for construction and utility contractors and will radically improve productivity."
The JCB Teleskid is a revolutionary new product that can lift 8% higher and reach 60% further forward than any other skid steer on the market and – in an industry first – it is the only skid steer in the world that can dig below grade, to a depth of 91 cm. Teleskid is also the only skid steer to combine vertical and radial lift capability in a single machine and features a unique system to set and maintain the bucket level throughout the boom's range of movement.
JCB will be at Landscape Ontario CONGRESS, to be held in Toronto January 9-11, 2018.
Source: JCB