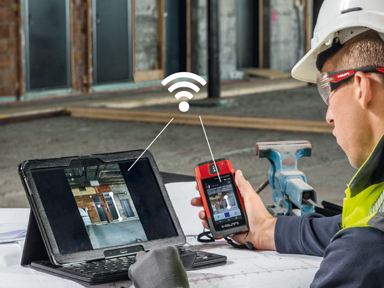 A Smarter Way to Measure
Digitize the entire measuring process with the new Hilti laser ran
ge meter PD-CS. Using an integrated laser module to capture and save measurements data directly onto photographs taken by its internal digital camera, the Hilti laser range meter PD-CS will help make contractors and site supervisors more productive, and eliminate the need for multipledevices – including paper and pencils.
The Hilti PD-CS allows the user to measure distances to 200 m with an accuracy of ±1 mm and add context to store data with pictures and/or text. Collected information can then be shared in a single PDF report or spreadsheet usingBluetooth, Wi-Fi or a Micro USB connection. Two 5 megapixels cameras with zooming capabilities on the Hilti PD-CS make locating a target outdoors or at long distances very easy. The user can take direct and indirect measurements and calculate area and volume among many other applications. Notes can easily be added to measurements and photos, and users can create project folders for different jobsites.
The Hilti PD-CS uses an Android-based technology and has a color touch screen that is usable even with work gloves on. It has 8 GB of memory and will store more than 6000 measurements with photos. The unit has an integrated Li-Ion battery with a 10-hour battery life.
Source: Hilti, Inc.