Versatility in Tight Areas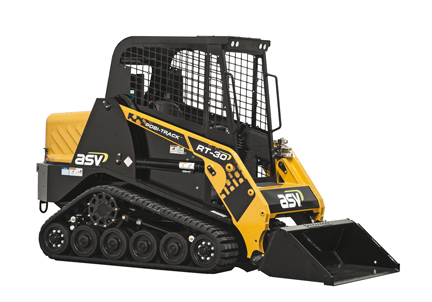 ASV now offers the Posi-Track RT-30 compact track loader as a heavy-duty commercial machine in a small package. The radial lift loader is the industry's smallest sit-on model yet features the same productivity-enhancing qualities as larger ASV machines. This includes highly efficient hydraulics and cooling systems as well as best-in-class low ground pressure. In addition, the RT-30 provides a safer, more productive alternative to walk-behind and sit-on mini skid steer loaders. The ASV unit's small size makes it ideal for contractors, rental centers and homeowners looking for a commercial-quality, compact machine for work in tight spaces for applications such as landscaping, snow removal and construction.
The 1,633 kg RT-30 is 122 cm wide and has a 2.56 m lift height. Its compact size and 254 mm of ground clearance minimize the risk of property damage or damage to the machine while working in hard-to-reach areas, whether clearing snow on sidewalks and through alleys or while completing landscaping or construction work in high-density housing areas. The machine's size also optimizes it for the rental market as the compact track loader is easy to transport on a trailer pulled by a pickup truck.
The RT-30 offers a safe alternative to similarly sized walk-behind and stand-on skid steer loaders. The ASV unit's cab provides rollover protection and protects the operator from outside elements. The cab's seat also eliminates the fatigue that comes from standing. In addition, the compact track loader also features more ground clearance and lower ground pressure than similarly sized machines on the market.
The RT-30's Perkins 1.5 l diesel engine provides more torque than smaller gas or diesel engines common in mini skid steer loaders. The RT-30 features a rated operating capacity of 300 kg and a tipping load of 862 kg.
Source: ASV Holdings Inc.