Ammann Unveils Forward-Moving Vibratory Plates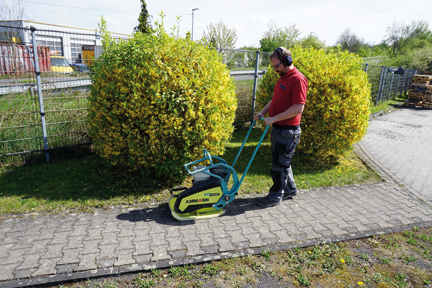 Ammann recently released a new line of technologically advanced APF Forward Moving Vibratory Plate Compactors, primarily for European countries. The plates provide industry-leading compaction power, maneuverability, forward-moving speed and climbing ability. They also are known for dramatically reducing unwanted vibration to operators.
The APF product line is the lightest of all Ammann plate compactors, with weights ranging from 69 kg to 107 kg and widths of 330 mm to 500 mm.
The plates fit a broad range of applications, such as gardening, landscaping and patchwork for road repairs. With an optional water sprinkler and vulkollan® mat, the machines are also suitable for asphalt applications and the laying of paving stones.
The APF line is powered by reliable and efficient Honda petrol engines. The largest plate is available with a Honda gas or a Hatz diesel engine. The diesel engine performs well, even in high altitudes, and is a good alternative for owner who prefer diesel powered.
The plate compactors include a low-vibration handle, maintenance-free exciter system, full engine protection frame.
The bottom wear plate is designed to last, with thicker protection added toward the back of the plate where the most wear occurs.
An optional 10 l water tank is available on most of the plates. It can be mounted without a single screw to simplify adjustment and ease refilling.
An optional mat, can be mounted in a few seconds, without tools, preparing the machine for work on paving stones and protecting the stones' edges from cracking.
Finally, the transport wheels can be dropped with a foot release. This allows a convenient and quick transportation of the machine on site and protects the operator's back by eliminating bending and prevents fingers from being pinched.
Source: Ammann