New Vermeer® S800TX Mini Skid Steer Offers Versatile Performance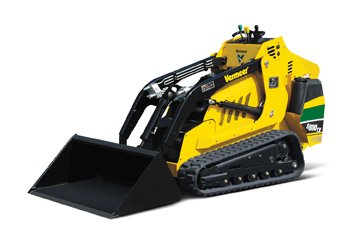 Vermeer Corporation has introduced the Vermeer® S800TX mini skid steer. This new ride-on machine features a rated tip capacity of 1089 kg and rated SAE operating capacity of 381 kg, all in a compact frame, enabling contractors to lift and transport pallets and bucket loads in and around confined spaces.
The S800TX is powered by a 35-hp diesel engine, providing exceptional power and breakout force. And measuring just 103 cm in width, the S800TX offers a narrower footprint than other mini skid steer models with similar horsepower and operating capacity ratings, enhancing maneuverability and access to confined spaces.
The hydraulic system of the S800TX has exceptional flow rate, capable of providing 53 l/min of hydraulic flow that helps more efficiently power a variety of attachments. An optional dual auxiliary hydraulic circuit helps provide operational efficiency with varying attachments. A universal mounting plate allows operators to quickly swap out attachments, making the S800TX extremely versatile in the field.
Features to enhance operator comfort and safety have also been incorporated into the S800TX design, including a spring-cushioned ride-on platform that offers broad jobsite visibility and ease of stepping on and off the machine. An operator presence system, integrated into the ride-on platform, automatically suspends ground drive and powered boom/bucket motion if the operator steps off the platform. Console cushions positioned to the front of the operator and on either side help increase operator comfort, particularly when working on uneven terrain.
The S800TX ground drive is controlled by a single, pilot-operated joystick for a smooth range of motion. Boom / bucket motion is controlled by a single, dual axis joystick.
Source: Vermeer Corporation