Peterbilt Model 348 for Vocational Applications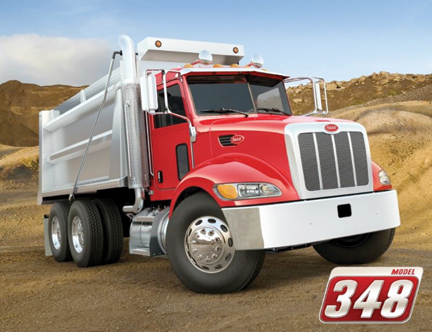 Peterbilt Motors Company recently unveiled the new Model 348 designed to exceed the rigid demands of Class 7 and Class 8 specialty application market that requires rugged durability and a wide range of option content. The Model 348 represents a multi-dimensional performer with a GVW beginning at 15 875 kg and optional capacity ratings to suit almost any speciality vocation.
The all-new interior enhances the vehicle's durability, reliability and value through its "in-mold" color process that imbeds the color permanently into the material to virtually eliminate peeling, scratches, scuffs and fading that can occur in harsh operating environments.
Additionally, the ergonomically designed driver display package features backlit gauges that are easy to read and simple to understand and includes key vehicle performance data located at the top of the dash for optimal viewing. For increased driver comfort and convenience, a new HVAC system not only improves air flow, but also reduces maintenance costs.
The Model 348 is available in truck or tractor configurations and offers critical vocational options such as FEPTO, REPTO and application specific transmissions including a hybrid configuration designed for utility service. The Model 348 is available with two powerful and fuel efficient PACCAR engines. In the hybrid configuration, the PACCAR PX-6 engine (280 hp) offers the highest horsepower to weight ratio in the industry while the PACCAR PX-8 engine (240 – 380 hp) provides 1050 lb-ft or torque for heavier loads.
The Model 348 is constructed of an all-aluminum cab that is lightweight for fuel efficiency and corrosion resistant for durability. Exterior enhancements have resulted in significant visibility improvements. The new lowered and slanted side window beltline which increases the view outside the passenger side window, as well as a lowered dash sightline, has contributed to an overall 17% improvement in side window visibility providing a better view around the jobsite.
For serviceability, removable dash panels provide easy access to electrical and HVAC components. A new electrical system offers proven multiplex technology that simplifies wiring behind the dash and facilitates troubleshooting. The Model 348 is available exclusively with air brakes for heavy-duty configurations and a wide range of suspension and vocational options in both single and tandem axle configurations.
Source: Peterbilt Motors Company