PALFINGER Launches New Brand Strategy at ICUEE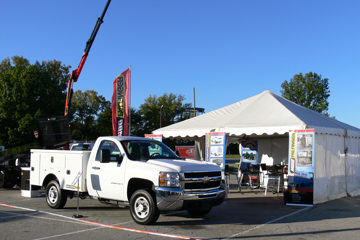 The ICUEE show was chosen for the launch of PALFINGER's new brand strategy. PALFINGER North America Group. MBB PALFINGER, Omaha Standard PALFINGER, PALFINGER American Roll-off and EagleLift PALFINGER will debut under the PALFINGER banner. Together these companies combine to create a stronger product offering, stronger dealer network and even greater market position.
The ICUEE was also an opportunity for customers to become familiar with many of the products offered by the Group. Several models of knuckle boom cranes were be on display.
The new PK 11001 Corner Mount crane made its worldwide debut. The 99,1 kNm rating makes it the largest of its class.
The container handling products on display included a PALFINGER T60 hooklift with dump body and a PALFINGER American Roll-off XT hoist.
Visitors could also see a contractor truck complete with a PALFINGER Omaha Standard platform, a PK 6001 knuckle boom crane and an PALFINGER Omaha Standard scissor hoist, as well as a PALFINGER Omaha Standard service vehicle.
Also making its appearance at the show was be a Chevrolet 2500 with a PALFINGER Omaha Standard Service Body and an EDL54 EagleLift liftgate.
Source: Palfinger North America Group