Incheon International Airport Orders Oshkosh Strikers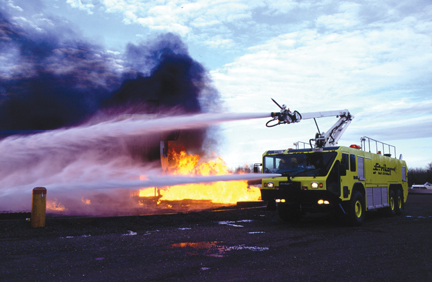 Oshkosh Airport Products Group, a division of Oshkosh Corporation, recently announced an order for two Oshkosh® Striker® 3000 aircraft rescue and firefighting (ARFF) vehicles from Incheon International Airport in South Korea. The two Striker vehicles will be delivered in 2010 to this growing hub in East Asia.
The Oshkosh Striker 3000 offers a 6x6 all-wheel drive axle configuration and proprietary technologies such as TAK-4® independent suspension, triple agent firefighting capabilities and Command Zone™ advanced electronics for enhanced maneuverability, firefighting power and reliability. Other features include a 11 350 l water capacity, 1590 l foam capacity, roof turret and six under truck nozzles.
The Oshkosh Striker is among the most popular ARFF vehicles in the world. Its platform capabilities have garnered the vehicle overwhelming respect among a growing list of customers, including Chicago O'Hare International, Dubai International, Montreal Pierre Elliot Trudeau International, Jose Maria Cordova International, Hartsfield-Jackson Atlanta International and Beijing Capital International.
Source: Oshkosh Airport Products