Smith Electric Vehicles Extends Industry-Leading Newton Platform to Production of Class 3 and 4 Commercial Vehicles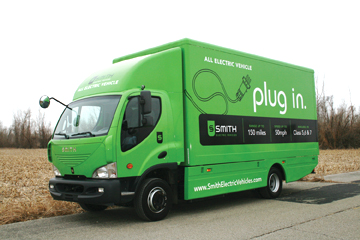 Smith Electric Vehicles U.S. announced recently the extension of its industry-leading Newton commercial vehicle platform to Class 3 and 4 models. The vehicles are now available in the U.S. and initial deliveries will take place before the end of the year.
"With this expansion, Smith is building off the success of the world-leading Smith Newton electric commercial truck platform to offer customers options for a much broader set of delivery needs," said Bryan Hansel, CEO of Smith. "The medium-duty truck market is the real sweet spot for electric commercial vehicles and extending the class of vehicles we offer is an aggressive move to increase the addressable market with a proven vehicle platform."
The Smith Newton is fuel-emissions-free, runs without noise or vibration, and stores electric energy during stopping through a process called regenerative braking. It has a top speed of 80 km/h, a range on one battery charge in excess of 160 km and a payload of over 7250 kg. The Newton is also the first commercial all-electric truck to achieve new vehicle emissions certification in California.
The Newton platform offers flexibility to meet a variety of delivery needs, from Class 3 to Class 7 trucks. By building off a single core platform, Smith will drive increased efficiencies in cost and execution, due to shared components across different models.
Source: Smith Electric Vehicles U.S.