First All-Electric Utility Truck in North America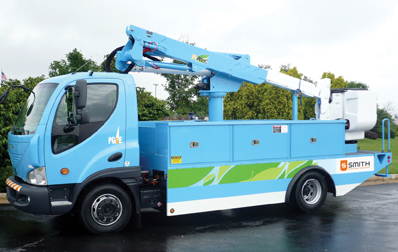 Smith Electric Vehicles U.S. Corporation announced recently that it has teamed up with Altec Industries Inc. to introduce America's first all-electric utility truck with an aerialdevice. The truck was unveiled last summer at the Electric Utility Fleet Managers Conference in Williamsburg, Virginia.
The truck is a battery, all-electric Smith Newton produced by SEV U.S. and SEV UK with an aerial bucket integrated by Altec Industries Inc., a leading provider of products and services to the electric utility, telecommunications and contractor markets.
Pacific Gas and Electric Company (PG&E), one of the largest combined natural gas and electric utilities in the United States, is playing a critical role in the development of this vehicle. The first test unit will be added to PG&E's fleet to conduct routine and emergency overhead line work in PG&E's northern and central California service area. PG&E will provide test data to SEV U.S. and Altec for the creation of a production model.
This unit is the first all-electric aerial utility truck to be put into operation by a major utility company before being brought to the market.
The Smith Newton has a top speed of up to 80 km/h, a range on one battery charge in excess of 160 km and a payload of up to 7400 kg. The trucks will be assembled at the company's plant in Kansas City, Missouri.
The Altec component, an AT37-G aerial boom, is a telescopic articulating device used for electric utility line maintenance and installation. The aerial has a maximum height of 11,5 m and reach of 8,6 m.
SEV U.S. is a privately held company and is owned by Private Investors Management, and The Tanfield Group Plc, based in the United Kingdom.