A Stronger Alternative to Traditional Woven Wire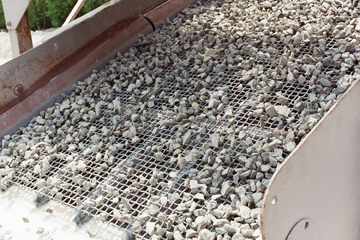 OptimumWire® woven wire screen media from Montreal-based Major Wire Industries Limited provides up to 40% longer wear life when compared to traditional woven wire of the same diameter.
OptimumWire is manufactured with a high carbon and high manganese content, providing more resistance to abrasion and better performance for aggregate screening operations worldwide. Its high ductility, hardness and tensile strength make it less susceptible to breaking in high impact conditions and with highly abrasive materials, so it lasts longer and minimizes labor, maintenance and lost production costs. Many operations using OptimumWire can also increase open area by choosing one smaller wire diameter size to maximize material throughput without sacrificing wear life.
OptimumWire is manufactured with the industry's most stringent wire opening tolerance of ±3%, so producers can achieve precise material passing for the screen's entire life. Each screen is woven with zero tolerance to any type of movement within the crimp or weave, which prevents the wires from rubbing against each other during use. On larger wire diameters, OptimumWire is manufactured from true hard-drawn wire, unlike most traditional woven wire that is made of "rod" that varies in diameter throughout its length and creates inconsistent crimping. Hard-drawn wire is consistent throughout, providing proper crimping and weaving – and increased durability.
OptimumWire is available in a variety of crimp styles, including Double-Weave™ for high-impact loads and larger feed sizes, HyperSlot™, and square and slotted wire. Wire diameters range from 1,2 mm to 19 mm with openings from 3,18 mm to 152 mm.
Now celebrating its 125th anniversary, Major Wire Industries Limited designs, manufactures and markets screening solutions, including Flex-Mat® 3 High-Performance, Self-Cleaning Screen Media; Flex-Thane®, a Flex-Mat solution for flat-deck screens; OptimumWire® and stainless steel woven wire cloth; and polyurethane panels for the quarry, mining, recycling, road building, green waste, top soil and industrial markets.
Source: Major Wire Industries Limited