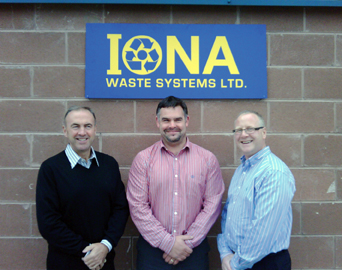 Iona Has It Sorted!
Following on from the export success of Fintec Crushing and Screening Ltd., Hubert Watson, has embarked on his latest new venture – Iona Waste Systems Ltd.
Iona Waste Systems Ltd. specializes in the design and manufacture of a diversified range of products, aimed at the waste recycling sector. With environmental and economic issues at the top of the agenda in the industrial sector; these products have come on to the market at the right time, helping businesses reduce landfill costs and turn waste into high grade, saleable products.
Iona Lights Separation Unit (LSU) is one of the key products in the range, which when married with other IONA products enables customers to recycle potentially up to 95% of their construction and demolition (C&D) and/or construction and industrial (C&I) waste material. The resulting materials can then be used as high-grade recycled products such as aggregates, steel and refuse derived fuel (RDF).
The Iona range of trommels are unique in that they have been specifically designed for the recycling market, robustly built to facilitate even the heaviest C&D application of aggressive raw materials for separation and further processing. Iona also supplies the range of associated auxiliary systems necessary to maximize both throughput and end product for the customer.
All plants can be tailored to suit customer requirements in terms of size and dimensions of available space, types of waste material, complementary with existing equipment and all importantly budget.
Iona is keen to exploit the huge export market potential where legislation dictates the importance of recycling C&D and C&I waste to reduce landfill taxes.
The team at Iona has a wealth of experience having recruited Paddy McEnhill, the new Operations director, with over 20 years experience with Extec. They also have Declan McNally on board who, as Technical Sales director, brings with him 10 years experience in the waste handling sector.
The new company will be based in Killyman, Co. Tyrone where they will be in good company with neighbours such as Sandvik, Metso and Terex.
Source: Iona Waste Systems Ltd.