A Garden on the Roof of an Indiana Primary School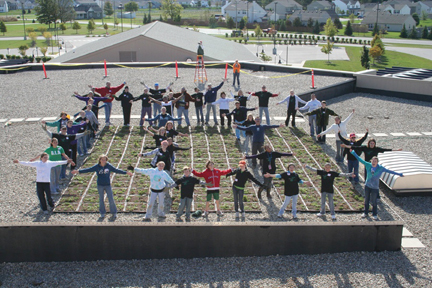 Environmentally friendly practices can be learned at any age. In Brownsburg, Indiana, children are receiving extensive instruction at school in sustainable living and the benefits these practices provide to their health and environment. On October 3, members of Brownsburg East Middle's School's Global Impact and Awareness (GIA) club helped install a Carlisle SynTec GreenGrid roof garden on the building's media center.

At an environmental conference two years ago, the students learned of the roof garden concept and the positive effects it has on the building and environment. Zach Williams, roof garden product manager at Carlisle SynTec explains, "The school will have less water runoff and this system will help to naturally keep the building cooler in the summer and warmer in the winter which reduces energy costs." After the conference, GIA members applied for a grant through Project Learning Tree, an environmental education program. Upon acceptance, the group received $5000 in grant monies and contacted local sponsors for the remaining costs.

The idea was completely student-driven, but the entire community was involved and Carlisle provided instruction and help throughout the entire process. Skip Freas of Carlisle's Building Owner's Services group says, "I will continue to work with students as the project moves into the testing phase. This is important information for the public to know and it's kind of poetic that the kids are bringing it to the adults this time." Some of the students who spearheaded the roof garden installation are now in high school and will begin studying the roof garden as part of their science class.
Source: Carlisle SynTec