The Grass Can Be Greener on the Other Side of Winter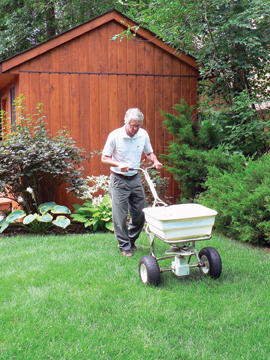 Imagine being able to spend less time perfecting your yard, more time on what you actually want to do, and still have your grass be the envy of the neighbourhood. Especially as right now is the prime time to prepare your lawn for winter. Turf Revolution's new Time Sav'r top dressing product makes this homeowner's dream a reality and will help your lawn shine after the snow leaves.
"Without a doubt, Time Sav'r is one of the most exciting products to come along in several years," said Tammy Lawrence, president of Turf Revolution. "As we all know, summer is just too short to spend all of your free time laboring to have a great-looking lawn. With Time Sav'r, you save hours upon hours of time and still get the results."
Unlike traditional bulk topdressing, which is labor intensive and not-so-friendly on the pocket book, Time Sav'r uses a new technology in turf management that represents the pinnacle in compost evolution that is both easy to use and cost-friendly.
Time Sav'r's granular form spreads easily through a spreader. Unlike bulk compost, which must be spread by hand or slow moving topdressing machines, Time Sav'r replaces hours of work with mere minutes.
Time Sav'r's granules drop close to the soil, right where they are needed leaving no room for weed seeds to grow.
Turf Revolution products are truly 100% organic and natural and are constructed of blends of ingredients to balance the nutrient content for optimum lawn performance.
Source: Turf Revolution