AMSOIL Diesel Recovery Now Available In Larger Containers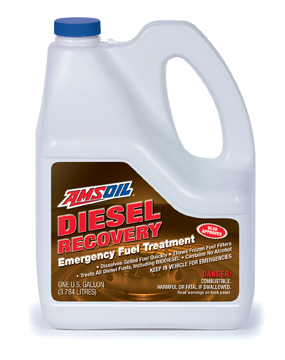 AMSOIL Diesel Recovery fuel additive is now available in 3,8 l, as well as 19 l containers and drums. When AMSOIL introduced its new diesel fuel additive last winter the market reception exceeded expectations. AMSOIL Diesel Recovery meets an important wintertime need for diesel operators in northern climates, quickly dissolving gelled fuel to allow operators to continue driving with minimal downtime.
MSOIL Diesel Recovery separates the molecular bonds of agglomerated wax crystals in diesel fuel to revive fuel flow in cold weather.
Unlike most winter diesel fuel additives that are preventative in nature and need to be added to the tank prior to the cold weather that would cause gelling issues, AMSOIL Diesel Recovery can be added after the gelling has occurred and will actually treat or cure the problem of diesel fuel that has already become gelled.
Formulated with no alcohol that can degrade components over time, AMSOIL Diesel Recovery is non-corrosive and contains no chemicals that interact with fuel system components and is safe for repeated treatments.

Heavy-Duty Synthetic Polymeric Grease for Off-Road Applications
AMSOIL has also developed a new line of heavy-duty synthetic polymeric greases designed to excel in extreme environments. Featuring a calcium-sulfonate complex thickener for enhanced extreme-pressure performance, AMSOIL Synthetic Polymeric Off-Road Grease has been custom-built to provide performance benefits specific to off-road equipment. AMSOIL Synthetic Polymeric Off-Road Grease utilizes a uniquely engineered technology for tenacious cling ability and maximum pound-out resistance over extended service intervals, even in wet environments.
The new AMSOIL Synthetic Polymeric Off-Road Grease is ideal for heavy-duty, heavy-load-bearing applications operating in adverse conditions, including power shovels, drag lines, wheel and track loaders, excavators, bulldozers, skid steers and other heavy-duty equipment. It excels at protecting heavily-loaded points such as pivot pins, king pins, bucket pins and bushings.
Source: AMSOIL Inc.