Kinedyne Grip Link Tire Chains Help Trucks Go Farther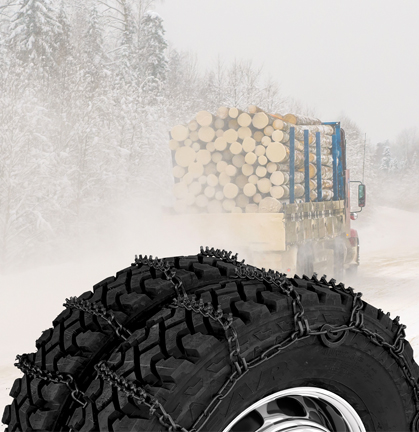 In recent years, many commercial truck tires have evolved to include a broader surface face and extra-deep treads. To provide customers with maximum traction when driving in slippery conditions on these tires, Kinedyne has redesigned its Grip Link tire chains to include additional links on the side chains as well as more cross chains.
The upgraded highway Grip Link Tire Chains will provide excellent traction on roads and highways covered in ice and snow, while the 7 mm and 8 mm off-road Grip Link tire chains are the ideal solution over uneven, bumpy terrain, and through difficult environments such as forest floors, and the scree, sand and mud of a construction site, quarry or mine.
"Some tire chains in the industry will barely fit the new wider tires. Our new Grip Link highway and off-road chains ensure that there are no fitment issues and improves safety when traveling in winter weather," says Robert Spooner, director of sales – Canada for Kinedyne.
Grip Link highway tire chains come in 7 mm steel wire V-bar and square link designs and are available for tire sizes of 11 x 22.5 and 11 x 24.5 in both singles and dual-triples styles.
The V-shaped bars on the V-bar tire chains act as miniature icepicks that pierce the ice, propelling the tire forward even over a slippery surface. The corners of the square-shape links on the square link tire chains are engineered to dig into the ice and snow and designed to cover more surface area, thus helping maintain a better grip on the highway.
Kinedyne's off-road Grip Link stud tire chains are designed to dig into the ground, creating a solid anchor that pushes the tire forward even over uneven terrain and through difficult driving environments.
Part numbers are etched on each cam so drivers can easily identify the model and size of the chain during use. Kinedyne provides trilingual installation instructions with every set, along with its T-Wrench tensioning tool that helps tighten and loosen the tensioning cams. All chains are sold in "Easy Carry – Easy Store" plastic pails that feature color-coded labels that clearly indicate the specific width and design of the various types of chains.
Kinedyne offers repair kits for every style of Grip Link tire chains, and tire chain pliers for easier installation of repair kits. Kinedyne's Grip Link Tire Chain Bungee is a quick and easy way to pull the tire chains tight for optimal grip while on the road.
Source: Kinedyne LLC