Multi-Tasking SENNEBOGEN 830 E Demolition Machine Takes Down Vacant Fortress
After 10 years of seeing the Wangler furniture store stand vacant, local residents in Regensburg, Germany, were pleased to see a crew from Metz GmbH arrive to tear down what was left standing of the old fortress. At the center of the jobsite was a SENNEBOGEN 830 R-HDD E Series material handler fitted with a variety of attachments to bring down and extract the material, sort it and load it for on-site crushing.
The 830 R-HDD E is a 40,800 kg machine on a crawler undercarriage that is specially equipped for the demanding conditions of demolition work. Easy to transport on a lowboy trailer, short set-up time and flexible range of attachments are just some of the reasons why the contractor deci
ded to purchase the SENNEBOGEN machine.
Metz GmbH was founded in 2007 and specializes in full-servicedismantling projects – from the controlled demolition of the structure, to crushing and sorting, right through to the removal of material, all carried out by a 25-person expert demolition crew. Clearly, this one-stop approach requires machines that are as flexible as possible and Metz found them through working with SENNEBOGEN and their local SENNEBOGEN dealer.
With a reach of 19 m and a full width of 4.5 m, the 830's demolition ability is ideally suited to downtown demolition.
"Despite its compact footprint, the machine is very stable. This is especially evident when we are working with large loads or reaching up high," said operator Andreas Feigl.
Another plus is that the machine has a 360° working radius with equal load capacity in all directions. This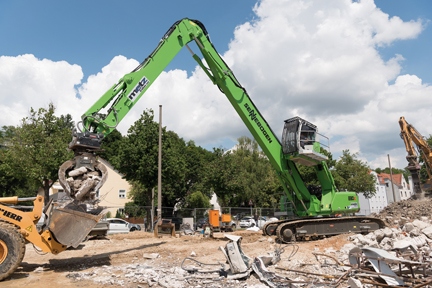 provides an ideal view of the entire work area from the cab. The elevating Maxcab with a 30° tilt means that the operator can work comfortably at an eye-level height of 6 m. From the ergonomic comfort seat, he can control the shears, bucket or demolition grab with a direct view of the attachment, even when reaching the tallest part of the building.
"Operating with reduced emissions is an important responsibility. It's not just being kind to the environment but it's also important to be easy on the wallet. The SENNEBOGEN 830 comes out really well in the time-money-precision equation!," said Christian Metz, founder and managing director of the demolition company. "The low fuel consumption of its Tier 4 final diesel engine and the reduced downtime with fewer refueling stops has completely won us over!."
Source: SENNEBOGEN LLC