A New Era of Light Commercial Vehicles
The original Volkswagen Transporter is the most recognizable light commercial vehicle (LCV) of all time. With the I.D. BUZZ CARGO, Volkswagen Commercial Vehicles is showing how an electrically powered and completely redeveloped Transporter might change the world of LCVs. This innovative zero-emission panel van could be launched as early as 2021.
The transporter concept was presented at the IAA Commercial Vehicles in Hannover, Germany. It is a sibling of the I.D. BUZZ concept, which was presented in 2017 in Detroit, Michigan.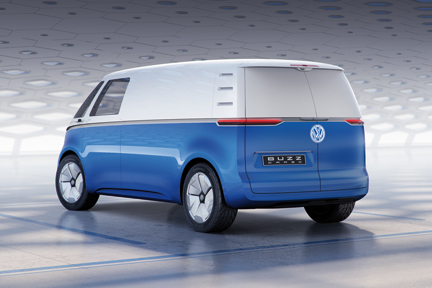 Both models are members of the I.D. Family – a new generation of fully connected electric vehicles delivering long ranges, a futuristic design-DNA and impressive space. Another key unique selling point of the I.D. Family is the scalability of its batteries. The models can be delivered with different battery sizes according to the vehicle's purpose and budget. The battery is integrated into the vehicle floor, lowering the vehicle's center of gravity and significantly improving handling.
Source: Volkswagen of America, Inc.