Solideal On-Site Service Opens New Service Location in Quebec to Serve Customers Even Better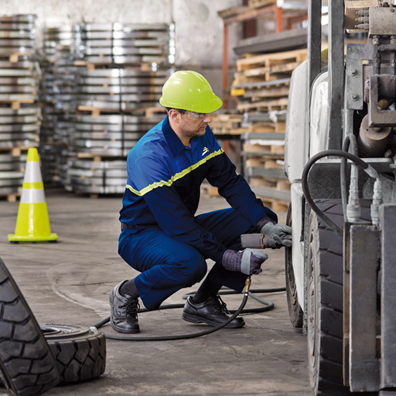 On September 6, Solideal On-Site Service, Camso's dedicated mobile service team inaugurated its new Québec city location.
As of this summer, customers from Québec City and surrounding metropolitain area have had access to a personalized forklift tire service on site, on time, and online.
"The opening of the Québec location is related to the expansion of Solideal On-Site Service to improve and standardize service to our customers," explained Lisa Reonegro, District Manager for Solideal On-Site Service – Canada.
To officially celebrate the start of operations at the new location, the team invited customers and media representatives to tour the facility. It was a unique opportunity to understand what goes on behind the scenes in solid and industrial pneumatic tire installation and repair services. While doing so, guests also learned more about Camso newest lines of Solideal forklift and Camso construction tires.
The new service location, the 5th in Canada, will offer an inventory of fast-moving material handling tires and construction products, as well as on-site installation and repair services for solid and industrial pneumatic tires.
"Solideal On-Site Service provides high-quality products and timely service solutions by experienced technicians. With an order-based on-site installation service designed to maximize your company's uptime, you can count on us to get the lowest operating cost solution for your fleet," said Mrs. Reonegro.
"With the largest global on-site fleet, we like to say that we are always nearby. This is now especially true for customers in the Québec area!" concluded Lisa Reonegro.
Source: Camso