Strongco Announces Multi-Unit Volvo Excavator Rental Agreement
with Tervita Corporation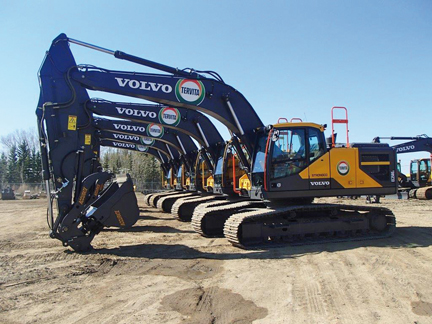 Strongco Corporation recently announced that it has entered into an agreement with the Environmental Services division of Tervita Corporation, a leading environmental solutions provider based in Calgary, Alberta.
The deal includes 8 Volvo EC250E excavators, complete with wrist buckets and hydraulic thumbs, to be used for onsite remediation and reclamation work at approximately 200 abandoned oil and gas well sites in the Central Alberta area, on behalf of a high-profile natural resources client.
"At Tervita, our specialized site remediation and reclamation expertise is put to the test every day, and we're always looking for exceptional value and ROI. The Volvo excavators have a competitive advantage when it comes to safety, reliability and fuel economy. Also important is the level of product support provided by Strongco through their preventative maintenance package, which helps to minimize downtime and maximize machine use leading to increased customer satisfaction," said Steve Poke, director Equipment at Tervita. "We're extremely pleased with the Volvo CareTrack system, which is highly intuitive and provides in-depth information on utilization, idling operator behaviors and fuel consumption on a daily basis across multiple locations."
"Since 2014, Strongco has partnered with Tervita in the delivery of innovative, reliable and effective solutions and services to maximize performance, while minimizing environmental impact," said Dave MacLeod, Alberta Key Account manager, Construction Equipment at Strongco. "Our extensive range of products and capabilities allows us to match their expectations for the highest level of quality, while meeting the exacting demands of this progressive industry."
In addition to the newly acquired units, Tervita currently owns 4 Volvo crawler excavators equipped with shears and multiple articulated haulers, all purchased through Strongco.
Source: Strongco Corporation