Customized Potain Tower Cranes Support Steel Yard Logistics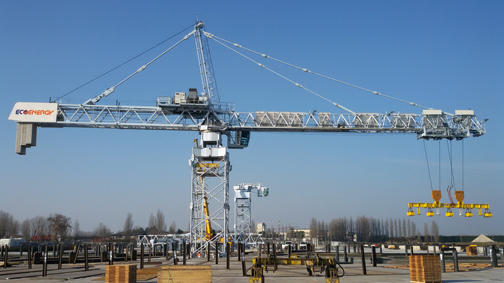 Two specially adapted Potain tower cranes are being used to load steel slabs, which vary in weight from 15 t to 50 t, onto trucks at a steel yard in Vallese di Oppeano, Italy. In collaboration with crane distributor Techind, Manitowoc supplied the MD 1100 and MD 1600 cranes to industrial plant and steel yard management company, Ecoenergy. The company is responsible for internal and external logistics at the steel yard, which is owned by one of Russia's largest steel companies.
The huge cranes have been assembled at the relatively low height of 11 m at the yard. Both cranes have been configured with 31 m of jib and are mounted on a fixed-angle base. The MD 1100 has a maximum capacity of 60 t, which it can handle out to a 14.3 m radius, while the tip load at 31 m is 23 t. It is being used to lift large steel slabs ranging from 15 t to 20 t.
For the MD 1600, its maximum capacity is also 60 t, which it can handle out to 30 m. Its tip load at 31 m is 57.7 t. This crane is lifting smaller-but-heavier steel slabs that weigh 50 t each. Unusually, the cranes are not lifting with their hooks. Instead, each crane has been fitted with a special application steel cross-beam to hold electromagnets that pick the steel slabs so they can be placed on trucks for transport.
"Manitowoc has provided us with powerful Potain tower cranes, which are the best option for us and this project," said Ecoenergy's CEO, Marco Bellini. "The company's specialist Lift Solutions team developed a customized technical solution for us, and oversaw the smooth and hassle-free erection of both cranes."
The MD 1100 arrived on site at the end of March 2016, followed by the MD 1600 in January 2017. Both will remain at the steel yard for the next 10 years. The cranes have been rigorously designed and tested to ensure they are capable of handling a hefty work schedule of 36,000 cycles per year, with operations at the yard running 6 days a week. Manitowoc's Crane Care department in Italy is providing comprehensive service and maintenance support for the cranes.
Manitowoc Lift Solutions is using custom software to provide Ecoenergy with data about the cranes, including the working hours for each hoist; number of working cycles; average load lifted; the geo position of the jib and trolley and more. Ecoenergy is then using this information to refine its material handling program to take account of the varying dimensions and weight of loads leaving the yard. "The information about each crane's performance is invaluable in helping us do our job more quickly and efficiently," said Mr. Bellini.
"This is a new approach for a project in the industrial field, and for cranes as big as the MD 1100 and the MD 1600, which are normally found on construction projects," said Sabino Riefoli, Export sales and key account manager at Manitowoc. "But it's great to see another example of our sales teams and Lift Solutions department meeting the needs of customers when faced with challenging projects."
Source: The Manitowoc Company, Inc.