Marmon-Herrington® Launches Infinitely Variable Transmission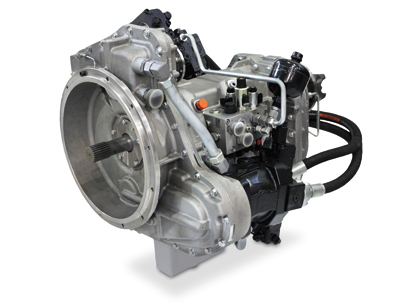 Marmon-Herrington recently announced the release of a new hydro-mechanical transmission that maximizes the advantages of both hydrostatic and mechanical transmission technologies. By combining the benefits of low-speed hydrostatic drive and high-speed mechanical drive, Marmon-Herrington's infinitely variable transmission is expected to provide fleets a significant reduction in operating costs, maintenance, fuel consumption, and greenhouse gas (GHG) emissions, as well as associated driver benefits.
"The HydroMechiVT™ is specifically designed for applications where performance is limited by torque converter waste and inefficiency," says Rick Blair, president of Marmon-Herrington's OEM Division. "Market-specific application of this technology will provide fleets a significant reduction in operating costs such as brake wear and maintenance."
"Our hydro-mechanical iVT offers meaningful drivetrain efficiency improvements, most notably in start-stop applications," says Nathan Webster, Marmon-Herrington Engineering manager. "When applied to the duty cycle for a standard New York City garbage truck, calculated efficiency improvements of 11% have been identified with improvements of over 15% in other cities."
Marmon-Herrington is working with key customers within the agriculture, refuse, and defense industries for development and testing. Thousands of test hours have been successfully completed on multiple vehicles with the goal to begin iVT production as early as 2018. The technology will be produced in Louisville, Kentucky, at Marmon-Herrington's Magisterial Drive location and is part of the Marmon-Herrington HydroMech® family of products for class 6 through 8 trucks.
Source: Marmon-Herrington