Mack® LR Model Now Available in 4x2 Configuration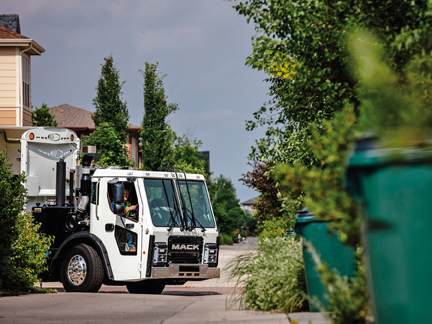 Mack Trucks' low-entry refuse cabover, the Mack® LR model, is now available in a 4x2 configuration, giving customers a lighter, more maneuverable option for refuse collection.
"The LR model was initially available as a 6x4 only, but some customers needed improved maneuverability that only a 4x2 configuration could offer," said Curtis Dorwart, Mack refuse product manager. "With the addition of a 4x2 LR model, we're pleased to meet the needs of an even wider range of refuse customers."
With a shorter wheelbase and tighter turning radius, the 4x2 LR model has the ability to fit into alleys and other small spaces. The 4x2 LR model is also lighter than its 6x4 counterpart, improving handling. LR models in 4x2 configuration are available now for order.
Launched in 2015, the Mack LR model was engineered to meet the specific challenges of the refuse application. Customer input was incorporated into the cab design to deliver improved productivity through superior driver comfort, safety and visibility.
The cab's enhanced driver environment includes power windows and power door locks, memory mirrors, in-dash air-conditioning, standard in-cab LED lighting and an instrument cluster with color LCD display. HVAC and radio controls are centrally-mounted and accessible from both driving positions. A tilt and telescoping steering column is also standard and features steering column-mounted main gauge pods for both the right-hand and left-hand driving positions to enhance gauge visibility and improve ergonomics.
The LR model was also designed with expansive front glass to provide unparalleled visibility. Wrap-around rear cab corner windows we also added to improve visibility and safety.
Source: Mack Trucks