Goodyear's Longest-Wearing Waste Haul Tire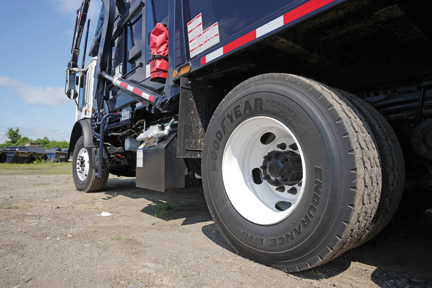 The Goodyear Tire & Rubber Company has unveiled its longest-wearing waste haul tire and matching retread, which it believes will become the "go-to" tire products for waste haul fleets that want more miles to removal and other important benefits.
"Our goal is to provide the Total Solution for waste haul fleets to help reduce their operating costs and our new Endurance WHA will help achieve this," said Brian Buckham, general manager, product marketing, Goodyear.
The Endurance WHA is one of the first tires in Goodyear's new Endurance family.
"It will offer more miles to removal than any previous Goodyear waste haul tire, plus other cost-reducing benefits that waste haul fleets have come to expect from Goodyear," said Mr. Buckham.
The combination of a new, scrub-resistant compound and a deep, 24/32" (19 mm) tread depth will help the Goodyear Endurance WHA deliver more kilometers to removal.
Optional with the tire is Goodyear's DuraSeal Technology, which is built into the tire during the manufacturing process and instantly seals nail-hole punctures of up to 6.3 mm in the repairable area of a truck tire's tread.
"Goodyear is the only tire company that offers a built-in sealant, which we believe is of considerable benefit to waste haul trucks that roll across debris-strewn surfaces," added Mr. Buckham.
Available in size 315/80R22.5, Load Range L, the Endurance WHA also features new sidewall protector shingles to help resist sidewall scuffing in high-scrub applications, which will help enhance casing life and a steel belt and casing package for enhanced endurance and retreadability.
"Waste haul fleets are heavy users of retreads. This is why we also have launched a matching Endurance WHA retread," noted Brian Buckham.
Waste haul tires like the Goodyear Endurance WHA, including those that contain Goodyear DuraSeal Technology, can be retreaded at Goodyear Authorized Retreader locations that are part of the Goodyear Commercial Tire & Service Network.
"Whether as a new tire or a retread, we truly believe that the Endurance WHA will provide superior performance for waste haul fleets. The new Endurance WHA and its matching retread are another important component of the Goodyear Total Solution, which has been designed to help reduce fleet operating costs," concluded Mr. Buckham.