C&U Americas Slewing Ring Bearings Precision Built
to Handle Large, Heavy, and Slow-Oscillating Loads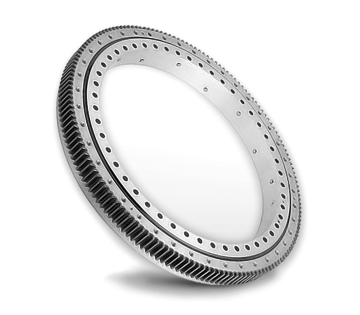 C&U Americas, LLC, the North American subsidiary of the C&U Group, offers world-class quality slewing ring bearings for use in a variety of demanding industries such as heavy equipment, oil and gas and renewable energy. These versatile bearings can be specifically designed to handle large, heavy, slow-oscillating loads like those in cranes, booms and lifts, yet can also be utilized in high-accuracy applications such as CT scanners and industrial positioners.
Slewing ring bearings are precision built to manage a variety of load types including radial, axial, moment or a combination of each. Their unique construction and compact footprint helps facilitate ease of mounting and maintenance. Seals are standard for retaining grease and keeping contaminants out. Relubricating holes are incorporated into the design, evenly distributed around the bearing, to allow for grease replenishment which helps reduce friction and wear and extend bearing life.
C&U Americas offers single row ball, single row cross roller, double row ball, and 3-row roller designs and a variety of heat treatment options. C&U can also provide gear teeth on the inner ring (internal toothed), outer ring (external toothed), or untoothed, depending upon the application.
C&U Americas offers a full line of bearing types and styles for use in original equipment manufacturing, aftermarket replacement, and MRO operations. The C&U portfolio includes over 30,000 types of bearings in a wide range of specifications and sizes ranging from 1.5 mm ID to 4,000 mm OD.
From its North American headquarters in Plymouth, Michigan, C&U Americas is able to offer its NAFTA customers exceptional value along with complete application engineering and customer service support.
Source: C&U Americas, LLC