Gaudreau Environnement Invests in the Health and Safety
of Its Employees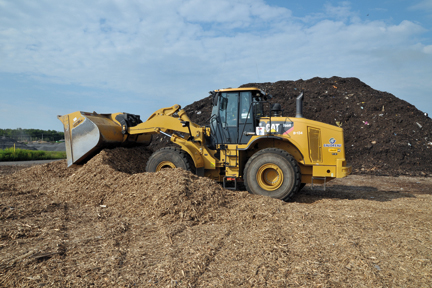 Expert in Quebec's waste management industry, Gaudreau Environnement Inc. is involved in each step of the management process: collect, transport, treatment and transformation of recyclable material, compost material as well as waste destined for elimination.
A Strong Partnership for a Responsible Future
Gaudreau Environnement manages Gesterra's technical landfill, a mixed economy company from a public-private partnership between Gaudreau Environnment Inc. and the Arthabaska RCM (Regional County Municipality).
Gesterra offers global waste management services in municipal, institutional, commercial and industrial sectors throughout Quebec, since 2006.
With a strong commitment for long-term development, Gesterra takes charge of the needs of each group, leads public campaign to encourage the public to better manage their renewable wastes and actively work with its clients for their environmental performance. Gesterra also provides a personalized expert service to municipalities and businesses wishing to exceed expectations.
Gaudreau Environnement's mission, on the other end, is to innovate to offer an outstanding quality services while constantly reducing the quantity of waste to eliminate. The environmental respect, the protection of resources and the constant search for innovative solution motivates the company's actions. These values have been at the core of the company from the very beginning.
Soon to be celebrating its 60th anniversary, the company is fully aware this growth would have not been possible without its greatest asset – its employees.
Knowing that while working at disposal locations, dust particles and potentially toxic fumes come out of the contaminated soils, compost platforms and or landfills, Gaudreau Environnement had to provide adapted equipment and a pressurized filtered micro environment, providing safe and quality air to its employees.
To achieve great results, they called on Remco Air. With 15 years in the quality air business, Remco Air was able to respond to the specific need of quality air in micro environment such as climatization, heating and pressurization of operator's cabin, for all type of vehicles, on or off road. Remco Air, among its quality services, distributes Clean Air Filter products, uniquely crafted for cabins and filtration/pressurization systems needed to maintain a positive pressure in equipment cabins.
The 3 in 1 filters type, particles and vapors, have an outstanding filtration capacity of 99,985% at 0,3 micron particle size. Furthermore, CAF filters greatly reduce odors and toxicity. The filtration/pressurization system services the need to maintain a positive pression in the cabin and is already at work in environment that are much more toxic than ours. This system is found in aluminum plants, foundries, highly toxic treatment centers, mines and other at risk environments.
By trusting Remco Air and the products and technologies they use, Gaudreau Environnement Inc. is convinced that their operators are better protected in the daily responsibilities and workplace as they benefit from clean and safe air to breathe.
Source: Clean Air Filter Co.