City of Kissimmee Adds ALLU Bucket to Maintenance Fleet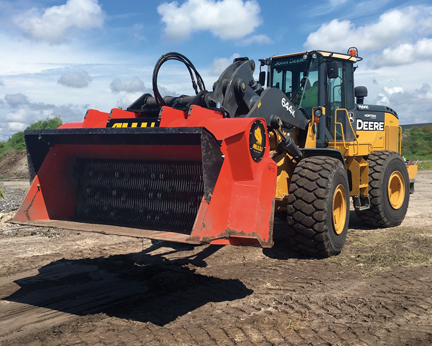 The City of Kissimmee, Florida, recently took delivery of an ALLU Transformer™ Screener Crusher bucket attachment with Top Screen, from ALLU Group. Kissimmee's Public Works department will use the attachment with its hybrid loader to screen rocks and trash out of dirt – saving the city and taxpayers money by reclassifying the dirt into suitable material for use in maintaining the city's infrastructure.
In February 2017, Kissimmee offered the invitation for bids to purchase a screener/crusher bucket for its 2014 John Deere 644K Hybrid Loader. The city noted that the unit must be an ALLU bucket – or its equal – with quick release, working with the Deere loader's existing coupler. Based on the city's specs, the bucket must process and load a wide variety of material types in numerous applications. The ALLU DSH 3-23-16/32 TS Screener Crusher Bucket with top screen capabilities exceeded the city's required specifications, winning the bid.
Source: ALLU Group