Vermeer BC900XL Brush Chipper
Is Ideal for Rental and First-Time Buyers
Vermeer introduced its newest brush chipper, whether purchasing your first chipper, stocking a rental yard or adding to a fleet; the Vermeer BC900XL is an ideal option. With the ability to chip heavily branched material up to 23 cm in diameter, the Vermeer BC900XL is ideal for line clearing and general cleanup needs.
The BC900XL features a large 23 cm x 35.6 cm feed opening to help boost productivity by reducing the need to trim heavily branched material before feeding it into the chipper. A 83.8 cm disc rotates at 1400 rpm and features two steel chipper knives with two usable cutting edges each. Two shear bars also have two usable edges to help extend wear life.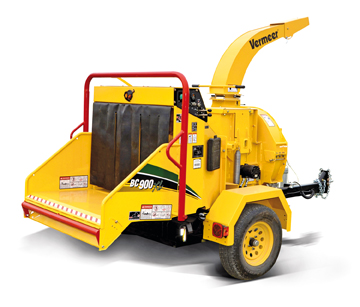 Another feature — the patented SmartFeed system — monitors engine rpm and automatically stops and reverses the single horizontal feed roller when feeding larger, hardwood material, helping to enhance chipping productivity. A 40 hp Kohler Command CH1000 gas engine provides the power to pull and process difficult branch material. The engine also offers a no-spill oil-filter-change feature for ease of serviceability.
The Vermeer BC900XL is equipped with safety features such as a long feed table design, bottom feed stop bar and a four-position feed control bar. The bottom feed stop bar is strategically located to make it possible for the operator's leg to strike the bar and shut off the feed, either intentionally or automatically, in an emergency situation.
Source: Vermeer Corporation