Even More Power for Mining Applications
NICOLAS Industrie SAS, the French heavy-load and special vehicle manufacturer, has produced a new type of world's biggest tractor for use in a coal mine in Australia. The 1,000-hp Tractomas has twice the pulling strength than previous tractors on the market and has been purchased by the LCR company for moving convoys of lignite side dump trailers at its mining facilities in the Australian state of Queensland.
One look is enough to see that the NICOLAS super truck is no ordinary tractor. Just the dimensions alone – more than 10 m long, 3.5 m wide and 4.6 m high – speak for themselves. Except for the driver´s cab which comes from a standard mass-produced truck, everything else is pure special vehicle construction.
LCR undertakes large-scale projects such as transportation and lifting technology especially in the mining industry. In this particular case, the tractor pulls long convoys of oversized side dump trailers with an overall towing weight of 535 t. Transport distances range between 10 and 40 km and gradients of up to 5% have to be mastered. Each trailer carries up to 80 t of coal. On straight routes without any gradients, a speed of up to 65 km/h (unloaded) and 50 km/h (loaded) can be achieved. On longer inclines, the speed drops down to 10 km/h. This is made possible through the 27-l capacity engine.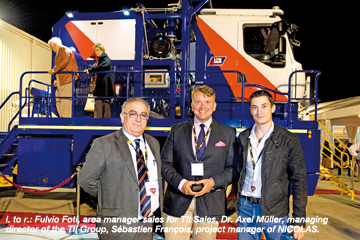 However, this can be increased still further using the "PowerBooster" auxiliary drive system. The PowerBooster can help the Tractomas maintain speed when negotiating inclines. As soon as the speed of the tractor on gradients gets down to a preset minimum, the PowerBooster cuts in automatically to provide extra driving force. An additional advantage is the improved cooling performance through the PowerBooster. Thus, transports can be carried out without any problems even under extreme climatic conditions, such as 50°C heat in the desert.
These features make the NICOLAS Tractomas the fastest and strongest heavy-load tractor currently available on the market and, as a result, ensure more economic efficiency in logistical operations in the mines. Following the delivery of the first vehicle in July, to LCR, orders for additional vehicles have been placed with NICOLAS.
Founded in 1855, NICOLAS combines tradition and innovation. Together with SCHEUERLE Fahrzeugfabrik GmbH and KAMAG Transporttechnik, it belongs to the TII – Transporter Industry International group, the world market leader in the development and manufacture of heavy-duty transport and special vehicles.