SENNEBOGEN Adds MagGrapples to Product Line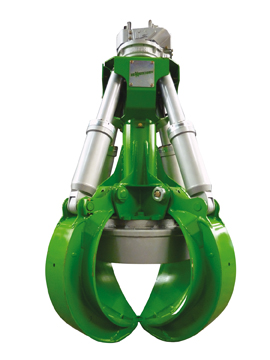 Based on the popularity of the SENNEBOGEN 4 and 5 tine grapples, Constantino Lannes, president of SENNEBOGEN LLC is pleased to announce the newest addition to their product line, the SENNEBOGEN MagGrapples.
The combination grapples and magnets have been designed and built to SENNEBOGEN engineering specifications. Due to the number of different product scenarios, SENNEBOGEN is offering 11 models from 0.57 m3 to 1.15 m3 and depending upon the application and the range of product being picked up for processing or shipping, the corresponding magnets are available in 76 cm, 91 cm, 101 cm and 112 cm diameters.
The MagGrapple features SENNEBOGEN's reknowned robust construction continues to make them the scrap and recycler material handler market leaders. Each unit features 360° rotation and is designed to accept both high radial and axial loads, which make it ideal to withstand the rigors of both pushing and pulling in recycling operations. Spiral steel hose guards help prevent hose damage and the cylinders are protected with removable guards for ease of service. For ongoing productivity the tines are protected against impacts on the outside of the jaw with a pressure release when the grapple is open.
SENNEBOGEN has been a leading name in the global material handling industry for over 60 years. Based in Stanley, North Carolina, SENNEBOGEN LLC offers a complete range of purpose-built machines to suit virtually any material handling application. Established in America in the year 2000, SENNEBOGEN LLC has quickly become a leading provider of specialized equipment solutions for recycling and scrap metal yards, barge and port operations, log-handling, transfer stations and waste facilities from coast to coast.
Source: SENNEBOGEN LLC