Strength and Reliability by Design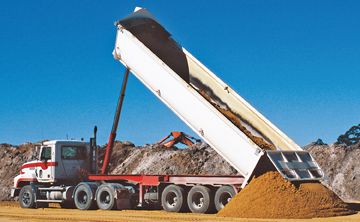 Held bi-annually at the Hannover exhibition centre, the IAA show is the global showcase for the latest technologies and innovations in the Commercial Vehicles and logistics industries. At this year's show, held September 20 - 27, Edbro Plc unveiled the CS22 cylinder, the largest ever produced by the UK company.
Edbro has earned its reputation through a policy of continuous investment in R&D and manufacturing that ensures its products are the strongest and most reliable on the market. These qualities are best highlighted by the company's flagship CS range of cylinders for front-end truck and trailer applications.
Recent investments in Edbro's manufacturing facilities have allowed the company to introduce the new CS22 cylinder which is now the largest cylinder within the CS range. A new laser welding machine, believed to be the most powerful ever built for tubular welding, allows Edbro to weld larger diameters and thicker wall sections which gives the cylinder the strength it needs to tip up to 90 t.
The CS22 is specifically designed with precision heavy duty engineering to ensure maximum operational reliability in the toughest operating environments. The robust design is specially adapted for markets where overload conditions are commonplace, with thicker tube walls providing high buckling loads to improve safety in operation.
Other features shared with the rest of the CS range include double lip wiper seals which ensure efficient lubrication and prevent cylinder contamination; wear rings which are made from non-metallic, acetal material to reduce friction and extend service life and brass sliders which reduce the risk of scoring and damage from side loads. As with all Edbro's cylinders, the CS22 has been designed to be bio-oil compatible helping operators reduce their environmental impact.
Source: Edbro Plc