The Only 700 kg Hydraulic Breaker with a Solid Body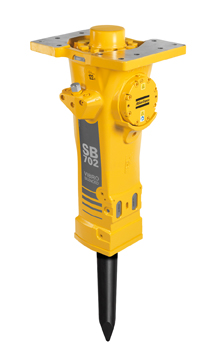 Atlas Copco's new SB 702, makes light work of a wide range of landscaping, construction and demolition jobs.
The unique aspect of the SB 702 is its solid body, a feature which no other breaker in the 700 kg class has. A one-piece housing construction makes the SB 702 unusually compact and easy to handle. The percussion mechanism and guide system are integrated into a single block of steel, eliminating the need for side bolts. The integrated, maintenance-free accumulator is easily accessible yet well-protected from bangs and knocks.
The SB 702 works with a wide oil flow range and can therefore be installed on a broad variety of carriers. In case of hydraulic overload, it is protected by an integrated valve which prevents damage to the breaker and helps avoid downtime.
The SB 702 is easy to set up and always ready for action. It requires very little maintenance and when it needs attention, it is easy to service. Double tool retainer bars minimize stress and wear on the working tools. Changing the working tools is easy thanks to the patented retainer bar lock system, and the floating lower bushing can be replaced by the operator on-site with standard hand tools.
Thanks to energy recovery, the SB 702 provides much higher percussive performance. While the impact energy remains constant, the breaker increases the blow frequency, which increases percussive performance. This, in turn, increases efficiency, and greater efficiency enables higher productivity with lower fuel consumption.
Energy recovery also helps to absorb recoil, which means less wear and tear on the carrier and a higher level of comfort for the operator.
Source: Atlas Copco