Les Constructions Bricon Chooses maestro*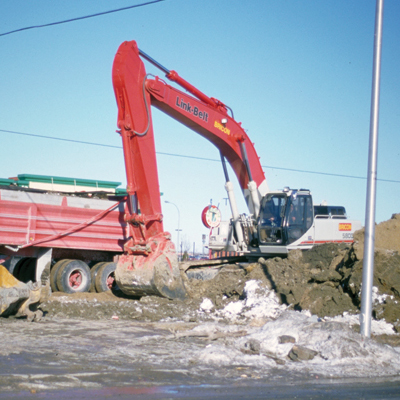 Les Constructions Bricon ltée specializes in civil engineering (excavation) through the production of asphalt, paving, decontamination, transportation, rock crushing, concrete and asphalt recycling, and performs snow removal during the winter months. The company is ISO 9001:2008 certified and has completed several LEED projects. In October 2010, the company ranked in 10th place in Constructo magazine's list of top construction companies in Quebec. Since 1987, Les Constructions Bricon has been able to meet the ever increasing requirements of its customers through its wide range of diversified equipment and experienced employees and has now become the leader in the excavation industry and infrastructure work in Québec.

It became very apparent to Construction Bricon that their current accounting and management software was not going to keep up with their growth. According to Serge Lambert, VP Finance at Bricon Construction "Our current system was very limited in terms of reports and screen inquiries and there was no way to adapt them to our requirements. We had been thinking of changing for some time and wanted a software solution that was at the forefront of technology. We all agreed that we had seriously outgrown our current software capabilities and that the time was right for a change".
Construction Bricon then proceeded to find a new vendor to replace their existing solution. Some of their key criteria's for selection was to choose software solution that was flexible, rich in features, could keep pace with the company's growth, and was easy to use. "With a vendor like Maestro we are now confident that we will always have a software solution that is on the cutting edge of technology and that will keep up with our expected growth. Finally, we chose maestro* because it only specializes in the construction industry and this is truly reflected in their product" continued Mr. Lambert.
With 40 daily users and a total of 122 users created in the maestro* , the installation phase is complete and Construction Bricon is now live on their new system with many new benefits being realized. Primarily, Construction Bricon is extremely pleased with the customized reports and the various dashboards they can view to effectively evaluate the quality and performance of their employees. Additionally, in terms of finance, maestro* gives them a much better and clearer overview of their financial statements. With several divisions in their company including paving, civil engineering, quarry, etc, Construction Bricon have always been limited to viewing a single financial statement for the entire company. Now, they have financial statements for each division.
According to Pierre Mercier, Controller at Construction Bricon - "The system is much more automated and this results in fewer errors. I can trust the figures and I can more closely monitor results on a daily basis. The tools available to me are indispensable for doing a good job. It is now very easy for me to quickly check the progress of a project, generate customized lists and add fields for a report that meets my specific requirements".
With new construction management software in place, Construction Bricon can now concentrate on their various businesses and continuing their rapid pace of growth.
Source: Maestro Technologies inc.