New West Coast Development is a Challenge
to Both Contractor and Golfer
---
When more than a dozen National Hockey League players decided they wanted to develop an 18-hole golf course, they set their sights on Skirt Mountain in Langford, a small west coast municipality, in Victoria, British Columbia.
To get a massive project like this completed satisfactorily they selected HHS Drilling and Blasting, owned by Derrick Hamilton and Neil Smith.
HHS has an enviable reputation for delivering results on time, no matter what the size of the undertaking. Each time they start a job, they put their trust in the reliability of drills from Tamrock.
A Recreational and Residential Paradise
According to Derrick Hamilton, Langford is now a paradise for golf enthusiasts looking for a challenging game amidst a backdrop of west coast mountain terrain.
The Bear Mountain Golf & Country Club is a residential and recreational complex that features an 18-hole course designed by Jack Nicklaus. Covering about 700 acres on Skirt Mountain, it overlooks Langford and provides players with commanding ocean views amid some of BC's most beautiful scenery. It's the perfect venue for those who want to marry the art of golf with nature's awe and beauty.
Looking at the completed golf course, and how it nestles into the mountain, it's hard to believe the massive scale of the job that first faced Derrick Hamilton and his crews. "It's all rock, and we had to drill and blast every single fairway," he explains. "In fact, to build one of the fairways, the 17th as I remember, we had to blast out 70 000 m3 of rock!"
It took HHS a year to complete the course, and now the company is doing more drilling and blasting, only this time to prepare the residential sections of the complex. Already the site is home to a luxury hotel, overlooking the golf course.
Significant Work Remains
Turning to the subject of what remains to be done, Derrick Hamilton paused for a moment to consider. "I would say there is another six to ten years of work".
After residential land development is complete, work on a 480-acre, 18-hole golf course at the bottom of the mountain is expected to begin. In total, the two golf courses will cover 1100 acres. In time, the bottom course will be open to the public while the top part will become a private course.
At this point his crews are in the seventh phase of the 34-step project, and he expects that this segment alone will mean drilling and blasting 150 000 m3 of rock of varying hardness. "We have a Ranger 500, a 700, and an 800 working up here," he said as he began to describe the drilling techniques being used.
"Our crews use a combination of 1 1/4 to six inch holes," he outlined. He also likes the high quality of Sandvik drill steel and bits that are available for the Rangers, and favours T-38, T-45, and T-51 steel from which he is averaging about 1200 feet of production per day.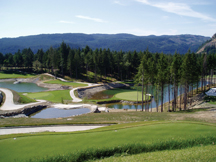 Likes the Production, Mobility, and Ergonomics
Derrick Hamilton is no stranger to Tamrock equipment. In fact, HHS owns a sizeable number of Commando and Ranger units and, apart from their reliability, he says the ergonomics of the Ranger line are excellent. "The cab is operator-friendly with air conditioning, heating for the nippy days, and a CD player." He thinks the Rangers are sleek looking units as well and adds, "The guys actually want to work longer hours in them and get more done."
The Rangers' design makes them a perfect choice for a project like Bear Mountain. Their boom coverage and mobility are important factors for Derrick Hamilton, and he commented that the Tamrock design "gives you better drilling coverage" because of a turning superstructure that allows them to swing in a 180 degree arc.
Before purchasing the units, Derrick Hamilton used traditional air track equipment, but he quickly learned that the Rangers are a better way to go. He explained that he finds the Rangers are more fuel-efficient and yet deliver more production, while the other system requires more manpower to operate.
Speaking about another advantage of the Rangers, he refers to the benefit of owning a drilling line from the same company. "If we find ourselves in a really tight situation, various parts on the Rangers are interchangeable," he adds. "When deadlines are tight, it's a relief to know we can install pieces from a Ranger 700 on an 800 model, or vice versa."
Obviously a committed fan of Tamrock equipment, he spoke about his recent purchase of another Ranger in October. This will allow them to kick production into higher gear.
Derrick Hamilton is also a big believer in regular maintenance. "We keep them in good shape and do oil and lubricant changes every 250 hours." he says.