More Utilization Through Adaptation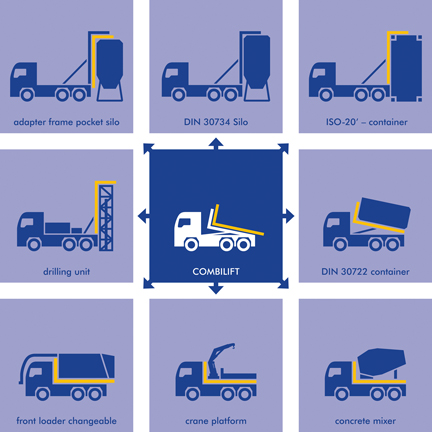 There will be a much greater need for flexibility in the future, both for transport service providers working on behalf of other companies and for operators with their own fleets of vehicles, in order to be able to cope with a wide range of different transportation assignments by road.
Flexibility will be needed among transport companies in order to secure more utilization for their trucks, especially in times of economic fluctuations. Solutions that enable trucks to be used for various transportation assignments are an economically effective concept. An heavy truck with an interchangeable body becomes a universal load carrier.
Be it a supported swap body, DIN 30722 container or a 20' shipping container velsycon's COMBILIFT can also hold 2 pocket silos, for example, picking them up and setting them down vertically like DIN silos using the CL-2T adapter frame. Interchangeable silos are also an alternative to permanently installed upright silos, in particular when production resources need to be provided within a time limit.
This is facilitated by a tipping and placing angle of over 90°. In contrast to permanently installed equipment, this adapter frame is only carried when required and therefore doesn't reduce the payload available for other transportation assignments.
The hook arm on the COMBILIFT can be moved hydraulically within its frame. As a result, it offers a unique flat container mount, offering a decisive advantage over standard roll-off tippers, in multistorey parking structures.
Source: velsycon GmbH