Four Unimogs for Mauritius Express
The island nation of Mauritius is currently implementing an important big project – the construction of the 37 km Mauritius Express light rail public transport system. When completed, it will run between the Port Louis and Plaines Wilhems districts.
Onboard for the project are 4 Mercedes-Benz Unimog vehicles which will be used for maintenance and repairs as well as rescue and assistance on the rails. For this purpose, the U 423 vehicles were equipped with rail technology from the Zagro company based in Bad Rappenau, southern Germany. Zagro is a "Unimog ExpertPartner" – a status which is issued to bodybuilders who fulfil especially high criteria in terms of service, quality and technology. Two of the Unimog vehicles are equipped with an elevating work platform and will be used for maintenance and repair work on the overhead lines, while the others will be used as rescue and assistance vehicles in the event of accidents or technical malfunctions.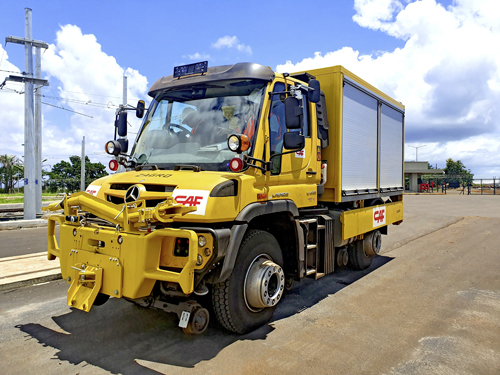 Mauritius had been without a railway system following the closure of the Mauritius Government Railway in the 1960s. The creation of the Mauritius Express was started in response to a huge increase in car usage and road congestion. The first section of track was brought into regular operation in January 2020 and the second section, known as the "Mauritius Metro Express" line, is currently under construction.
Source: Daimler AG