Roughneck, Cool and Tough!
Constructed for the rugged and demanding environment found in the oil exploration and extraction industry these coolers were chosen by Baker Hughes for their current generation of 3,000 hp Caterpillar powered frac pumping rigs.
Working in environments with high ambient temperatures, high vibration and dust these units need to be reliable 24/7 while working remotely. Usually located on sites in remote areas of the Southwest U.S., Mexico, or even Western Australia, serviceability is critical. Currently these units are working in Argentina according to the latest reports.
This is a production environment like any factory or mining operation you can think of. The price of oil can shift rapidly on world markets as has occurred recently and extracting product on time and on budget is key to success. A success dependent upon reliability of the equipment and when an item falters, the ability to resolve the issue quickly and return the equipment to operation swiftly is pivotal.
Mesabi by L&M Radiator has led with cooling solutions for over 60 years, and was the obvious "Go To" for Baker Hughes and their builder of choice Dragon Products of Beaumont, Texas. According to many Baker Hughes operations crews, Mesabi gives them the highest reliability of any cooler in their fleet.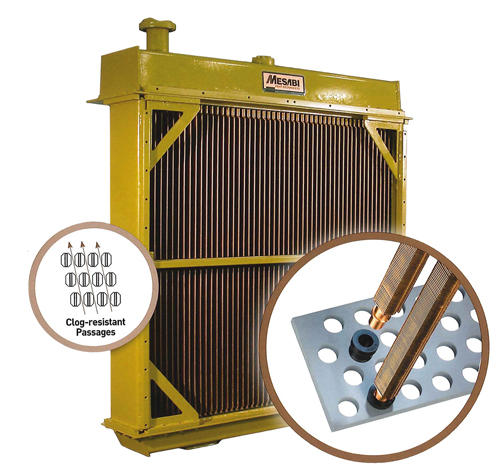 Backed by an experienced engineering group, using State-of-the-Art software, almost any situation can be evaluated, and a suitable Mesabi design proposed to fit the circumstance. In the words of Roger Bauer, L&M's field specialist for oil and gas… "When I speak to a customer, I am confident not just because of my experience but because of the tremendous expertise, innovation and quality that stands beside and behind me…"
Forged in the field of battle, Mesabi coolers originated for use in armored fighting vehicles (AFV) in North Africa during the Second World War. No environment is more demanding or more critical on equipment and componentry.
At the centre of this phenomenon is the Mesabi tube and seal design. Supplemented by a variety of tube styles and materials these coolers can handle the harshest of treatment and laxest maintenance practices which conventional cooler structures cannot. The legendary "Vee Core" tubes virtually eliminate fouling by permitting debris to pass through the core without sacrificing cooling capabilities.
The individual tubes and seals can absorb vibrations and stress without compromising the entire cooler structure. The heavy walled tubing make cleaning trouble free, even with the high pressure washing equipment.
Yet these capabilities do not paint the full picture of the serviceability of the Mesabi coolers. These lay in the ability to repair the cooler in-situ, reducing maintenance and downtime costs. If a replacement tube or seal is not available, simple plugs can be inserted and the equipment put back into service without removing the radiator. This is further enhanced by the innovative design of these large coolers that includes access hatches in the structure for the most convenient cleaning, servicing and accessibility, of any product on the market.
Source: Clearwater Radiator