New Fin Tube System for Shell-And-Tube Heat Exchangers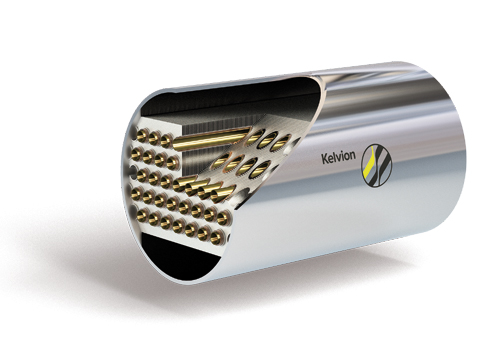 Kelvion has merged its pioneering, market-leading double tube safety technology with its compact fin system to produce the new ComFinSafety heat exchanger.
This system, developed from different product lines, offers major advantages for applications requiring high safety levels, combined with a compact design and, crucially, where the media properties are significantly different, such as oil cooling by water.
Since 1974 Kelvion has been developing innovative double tube safety heat exchange technology for industries and applications where preventing media mixing in the event of a leak is critical. They include transformer cooling systems, chemical and gas treatment and machine cooling on board ships and in hydro power plants.
The ComFinSafety systems expands Kelvion's shell & tube heat exchanger portfolio in terms of cost efficiency and compactness. It is available in both standardized and customized coolers in the product lines Shell & Tube Double Safety and Transformer Cooling Systems (transformer oil-water coolers).
The tube system consists of copper outer tubes and inner tubes which can be manufactured from CuNi alloys or stainless steel, with an optional inside coating. Between inner and outer tube there are leakage channels, connected to a leakage detection system which triggers an alarm in the case of leakage. In such a case, one of the tubes would be damaged – the other tube would continue working.
The compact fins are made of aluminum or copper. Fin pitches are available in variable configurations. Tube bundles come in diameters of 100 to 600 mm and lengths of 250 to 3,600 mm. The heat exchangers are designed for a pressure of up to 60 bar (g) and temperatures between -10°C and 200°C. Water, sea water, oil, refrigerants or air can be used as media.
The ComFinSafety heat exchanger can be used in different applications, including power, grid, marine, transportation, heavy industry or HVAC.
Hydropower is a good example of ComFinSafety's potential. Oil used in bearings of the water turbines and transformers, is heated up during operation and must be cooled. Flowing water can be used as the cooling medium for lube and transformer oil. ComFinSafety ensures efficient heat exchange, with a small footprint, less instrumentation effort and a reliable separation of media allowing no contamination of both neither the cooling water nor the oil in the system.
Source: Kelvion Holding GmbH