Plan for Overhead Motorway Powerlines for Trucks Revealed in the UK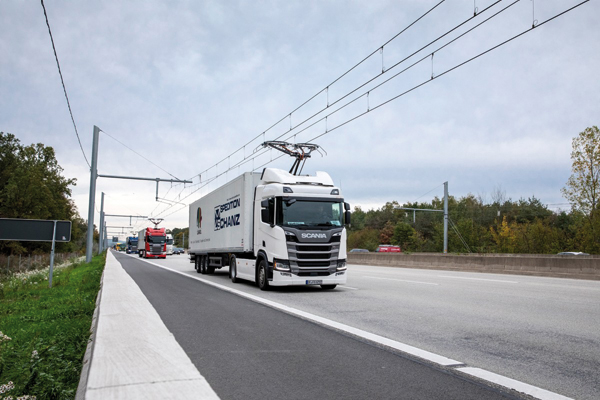 A  plan to install overhead charging cables for electric trucks on the slow lanes of the UK's motorways has been published recently.
The plan, which is expected to cost around £19.3 bilion ($34 billion), is part of Her Majesty's Government's aim to achieve zero carbon emissions by 2050. If approved, a pilot project could be rolled out along 60 km of the M180 highway in South Yorkshire.
The site has been earmarked because of its high levels of heavy truck traffic from Immingham port and its proximity to several national distribution logistics companies.
It follows a study published by the Centre for Sustainable Road Freight (available online), calling for radical action to cut freight emissions.
Under the proposal, trucks using electric drivetrains could use the inside lanes of motorways, taking power via pantographs from overhead cables similar to the method used on railways or tramways – a technology that has already been tried in Europe (on the A1 Autobahn, close to Lübeck, in northern Germany) and North America (between the ports of Los Angeles and Long Beach, in California).
The electricity would supply the truck's electric motor and recharge an onboard electric battery that would harness enough power to take the vehicles to their destinations beyond the electrified roads.
A comprehensive network of "e-highways" could significantly reduce CO2 emissions from road freight, according to the white paper.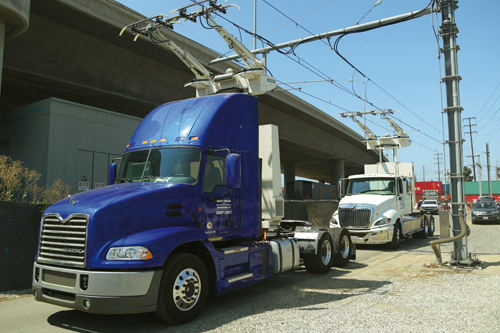 The report, titled Decarbonising the UK's Long-Haul Road Freight at Minimum Economic Cost stated that overhead catenaries and compatible trucks are the most energy-efficient and cost-effective solution to fully decarbonise the UK's road freight network.
The infrastructure investment can also be partly shared with other investments such as motorway service station charging of cars, the 5G network and the intelligent transport system infrastructure needed to support connected and autonomous vehicles of the future, it suggested.
Investments in the pantograph EVs would pay back the vehicle operators in 18 months (through lower energy costs) and the electrification infrastructure could pay back its investors in 15 years (through electricity sales), making the infrastructure investment a unique opportunity for private finance.
The improved energy efficiency of the freight system will also create sufficient headroom in the economics for substantial government revenues through an electricity excise tax, road user charge or some other form of tax, said the report.
Source: Centre for Sustainable Road Freight