VMAC Releases UNDERHOOD™ 70 Air Compressor
For 2019 RAM Diesel Trucks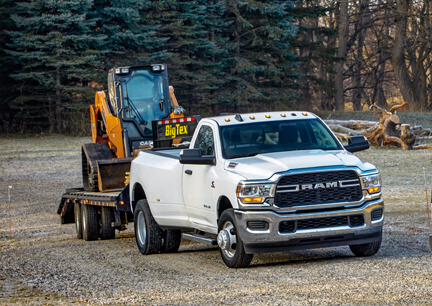 VMAC has released its popular UNDERHOOD™ 70 Air Compressor for 2019 RAM trucks with Cummins diesel engine. This rotary screw air compressor is designed specifically to be installed in the engine compartment of the RAM truck. The UNDERHOOD™ 70 Air Compressor can produce up to 70 CFM of continuous air flow at 100 psi (1,982 l/min @ 6.9 bar). It can achieve a maximum pressure of 175 psi (12 bar).
"As our customers upgrade their service trucks to the latest model years, VMAC is committed to ensuring we have UNDERHOOD™ Air Compressors available to meet their needs," says Barry Fitzgerald, VMAC's engineering manager. "This latest release of UNDERHOOD™ 70 for RAM joins our comprehensive 2019 line of UNDERHOOD™ air compressors for trucks and vans, which includes applications for Ford, GM, Chevrolet, and Mercedes-Benz with models ranging from 40 CFM to up to 140 CFM (1,130 to 3,960 l/min)."
The UNDERHOOD™ 70 air compressor is favored in the industry for being lightweight and compact. It frees up to 0.7 m3 on the truck deck, and saves up to 118 kg, compared to a gas drive reciprocating air compressor with 113,5 l air receiver tank. These space and weight savings allow customers to carry more tools and equipment or take advantage of better fuel economy.
UNDERHOOD™ air compressors also perform well in extreme climates, including arctic and desert environments. With the air compressor installed in the engine compartment of the truck, it is protected from the elements, ensuring it starts in freezing temperatures every time.
The UNDERHOOD™ 70 is designed for RAM 6.7 l Cummins Diesel trucks. The application for 6.4 l HEMI V8 gas engine is slated to be released soon.
Source: VMAC