Vermeer D23x30DR S3 Navigator® HDD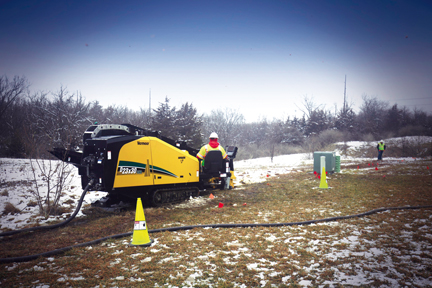 The new Vermeer D23x30DR S3 Navigator® horizontal directional drill (HDD) integrates dual rod technology into a compact machine design to efficiently maneuver through rock in congested cities, busy neighborhoods or tight jobsites. Featuring a class-leading narrow footprint and a weight of 7,484 kg, it is the lightest rock drill on the market and is well suited for fiber, electrical, gas and water installation in hard rock, as well as other challenging ground conditions. 
The Vermeer Firestick® drill rod dual system onboard the D23x30DR S3 gives operators a 7% downhole steerability.
The unit's threaded outer rod has a rotational torque of 3,000 ft lbf (4,067.5 Nm), while its hex inner rod delivers up to 800 ft lbf (1,084.6 Nm). The D23x30DR S3 is powered by a Deutz TCD3.6L4 diesel engine and a thrust/pullback of 24,000 lbf (106.8 kN).
Source: Vermeer Corporation