Always On-Hand to Help in Emergencies Involving the Power Supply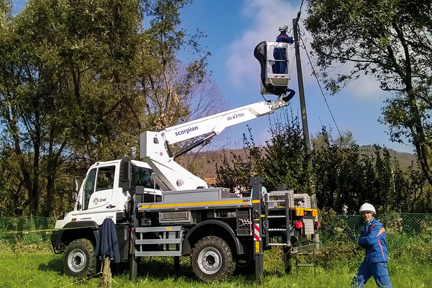 A fleet of 40 new Unimog U 218 vehicles is in operation keeping the electricity supply in Italy in working order. Delivered last year to Enel, one of Italy's biggest electricity suppliers, the special vehicles with their elevated work platform have proven their worth right from day one. Their task is to make possible urgent repairs and essential maintenance work, even in the toughest of terrain. This involves a rapid response in emergencies such as those where power lines need repairing after snowdrifts or landslides.
The Mercedes-Benz Unimog, with its impressive off-road handling, is destined for highly demanding tasks. Its portal axles ensure high ground clearance and great axle articulation whilst the differential locks allow extreme terrain to be tackled with ease. Furthermore, the Unimog U 218 is particularly agile thanks to its turning circle of 12.6 m, which is similar to that of a passenger car. Short overhangs combined with favorable approach and departure angles increase maneuverability. Accordingly, the Enel network can rest assured that repair sites can be reached both rapidly and reliably.
On-site as well as en route, the Unimog relieves the strain on the driver thanks, among other things, to its modern cab which provides an unhindered view of the road and terrain through the panoramic windshield.
The Unimog U 218 is part of the professional implement carrier model series and is equipped with a 177 hp 4-cylinder diesel engine. Mounted to the chassis, the Oil & Steel Scorpion 15 E work platform is controlled using the powerful yet sensitive hydraulics of the Unimog. The telescopic arm can extend to a maximum working height of 15.9 m and has a lateral reach of 10.3 m. The basket can support a load of up to 200 kg.
In addition to the 40 new Unimog U 218 models, a further 8 Mercedes-Benz Atego 1024 4x4 vehicles equipped with a mounted crane were also delivered. The all-wheel-drive trucks deliver 238 hp and have strengthened axles and shock absorbers.
Before accepting this delivery, Enel already relied on vehicles from Mercedes-Benz. Its fleet includes 70 Unimog U 20 and 2 Unimog U 500 vehicles, not to mention 220 trucks from the Atego model series and 150 Sprinter vans.
Source: Daimler