PRINOTH Introduces the PANTHER T7R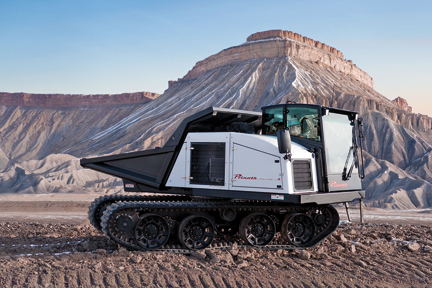 The PANTHER T7R is set to redefine the standards for tracked dumper productivity and cost effectiveness. Its design and engineering was guided from the ground up by the company's customers.
PRINOTH's innovative R&D gives the PANTHER T7R a payload capacity on par with the industry, and an overall speed that literally leaves the competition in its tracks.
The PANTHER T7R's fuel autonomy is considerably better and will easily allow contractors to work through a whole day, even a long one, without needing to refuel. Additionally, the vehicle is also under 2.5 m wide, which complies with standard transportation regulations and thus saves companies money and makes transporting the vehicle from one site to another much easier.
Driver comfort and ease-of-control directly impact maneuverability and safety, so like the entire model range, the T7R also includes a combined pedal and steering wheel thus adding a level of intuitive operation that adds security to everyone in, and out of the vehicle.
PRINOTH understands that its machines are made for people – owners, operators, and those who keep their crawler carriers running over any terrain and in all conditions. This is why the PANTHER T7R includes maintenance-friendly easy-access features such as human height filters and oil gauges.
Another great reason the T7R is going to be in high demand for years to come is that PRINOTH will continue to lead innovation and excellence in the design and manufacture of tracked vehicles.For the past 3 years, PRINOTH has been participating in an EU-funded project with a consortium of European forestry institutes together with PONSSE, a leading manufacturer of forestry equipment, to develop a low-impact forwarder. PRINOTH was chosen to supply the undercarriage to the ground-breaking OnTrack Forwarder.
Source: PRINOTH Ltd.