JCB Apprentices Win at SkillsUSA Championships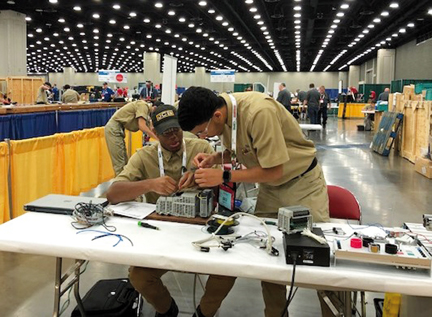 Anthony Smith and Victor De La Cruz won first place in the mechatronics division at the recent SkillsUSA national championships. The 2 apprentices were tested in practical skills in pneumatic technology, electrical systems, mechanical systems and general automation techniques. They now have the opportunity to compete in the WorldSkills championships to be held in Shanghai in the fall of 2021.
"The entire JCB team is extremely proud of Anthony and Victor. This achievement is a true representation of their hard work and dedication," said Tonya Poole, vice president of Human Resources at JCB North America. "Since joining the JCB Manufacturing Skills Apprenticeship Program, Anthony and Victor have rotated through several JCB departments gathering hands-on skills, along with receiving classroom education at Savannah Technical College. Their gold medal illustrates how successfully both programs, coupled with their efforts, prepared them to compete with the best of the best in the national championship."
Messrs. Smith and De La Cruz chose to compete in the mechatronics division because both students are majoring in industrial maintenance systems technology at Savannah Technical Institute and have long-term goals of pursuing a bachelor's degree in mechanical engineering. Anthony Smith is apprenticing in JCB's production control division and Victor De La Cruz is currently apprenticing in the government and defense engineering division at JCB.
SkillsUSA is a national membership association serving high school, college and middle school students who are preparing for careers in trade, technical and skilled service occupations. More than 340,000 students and advisors join SkillsUSA each year, organized into more than 19,000 local chapters and 52 state and territorial associations. More than 600 business, industry and labor organizations actively support SkillsUSA at the national level; many more work directly with state associations and local chapters.
Source: JCB North America