John Deere Updates L-Series Backhoes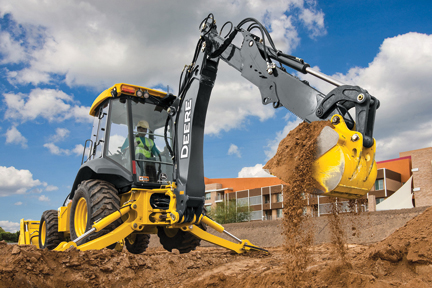 Updates to the John Deere L-Series backhoe lineup enhance the productivity and uptime for users looking to lift more and multitask on the jobsite. The key backhoe updates include the introduction of precision mode, enhanced pilot controllers, 2 new rear quick coupler offerings and a redesigned hydraulic thumb.
As a new standard feature on the 310SL HL, 410L and 710L, precision mode allows reduced-speed hydraulic functions while operating the backhoe end of the machine – all with the push of a button on the Sealed Switch Module (SSM). The mode allows accurate, detailed work to be performed easily in tight areas, around utilities or while craning, and it helps new operators become comfortable with the backhoe as they master their operating skills.
John Deere also improved the pilot controller – increasing the metering range by 16% – which enhances operator feel at the control helm. Additionally, engineers enhanced consistency between functions (acceleration and deceleration) for smoother operation and reduced system oscillation.
The new rear hydraulic coupler was designed with an integrated control that is incorporated into the SSM for reliable operation and clean installation. A spring-type rear coupler is also new and offers increased productivity and uptime by only requiring the operator to leave the cab once during the process of changing buckets. The only tool required is the provided control rod, which is sized to fit in the standard toolbox. By only leaving the cab to release the current attachment, the operator is able to get back to work faster and easier than with traditional manual couplers.
A redesigned hydraulic thumb option reduces trench interference and improves contact points against the bucket cutting edge when handling or loading irregular shaped objects, debris, rocks or anything that cannot be handled with a bucket alone.