60 Years of BOMAG: The Success Story Continues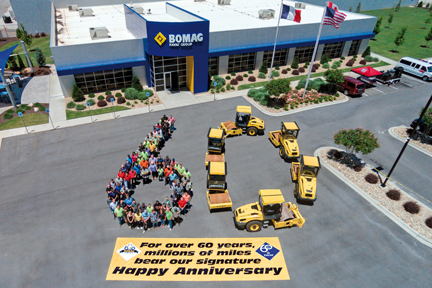 BOMAG GmbH, the specialist in road construction and asphalt and soil compaction, is celebrating its 60th anniversary this year. The company's focus on innovation, quality, user-friendly products and the highest level of service has transformed a small business into a successful global manufacturer of construction machinery. BOMAG – founded in the town center of Boppard/Rhine in Germany in October 1957 – now employs over 2,000 people and generates annual revenue of about €700 million ($1 billion). The company has production plants in Germany, Italy, Brazil, the U.S. and China.
"We are proud of what BOMAG has achieved up to now and the many innovations which have been accepted by customers all over the world, which have made BOMAG the global market leader in our core business of asphalt and soil compaction," says Jörg Unger, president – FAYAT Road Equipment Division. "Above all, this has been made possible by the commitment of our highly qualified employees, who give us their best every day and are never simply satisfied with what has already been achieved."
One of the most important pillars of this 60-year success story is customer orientation and placing the customer first. Since its founding, BOMAG has placed great importance on developing close partnerships on an equal footing.
"No matter where we are in the world, BOMAG always maintains its focus on the customers' needs. This close market proximity together with the highest level of local service for the machines is one of our greatest strengths, and this will not change in the future," adds Mr. Unger.
The results of these developmental partnerships with customers are products that meet not only market requirements but also especially those of the user. Machines with a long service life and low servicing requirements and control systems that are easy to operate make construction and compaction work more productive. The high compaction power plus BOMAG's world leading measurement technology save contractors significant fuel costs and time.
To lead the way in road construction and soil compaction in the coming decades, BOMAG continues to invest strongly in research, development, education and training and launches an average of 15 new products onto the market each year.
In September of this year, BOMAG's popular "Innovation Days" customer event will be held at the new Customer and Training Center in Germany. The growing headquarters in Boppard have been expanded to include a modern demo site with an outdoor area for machine demonstrations and presentations. This is connected to a training center with training rooms and workshops.
Source: BOMAG Americas, Inc.