Trend of The "Interconnected Airport"
Opens up New Possibilities for the Airport Industry



The 21st International Exhibition for Airport Equipment, Technology, Design & Services, inter airport Europe, will take place from October 10-13, 2017 at the Munich Trade Fair Center in Germany. Just a few weeks ahead of the show, with around 31,000 m2 of net exhibition space, the show has further grown in terms of stand space compared to the previous event. The trend currently driving innovation in the airport industry is the "interconnected airport", which is therefore in the spotlight of this year's show.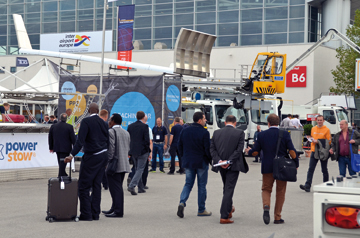 Around 620 exhibitors from 43 countries have already secured their booth space at the world's leading airport exhibition. The most important exhibitor countries, besides Germany, are currently the U.S., France, Great Britain, the Netherlands, Italy, Denmark, Spain, Sweden, China and Switzerland. This year, on even more floor space than before, exhibitors will present the most comprehensive range of equipment, technologies, design and services from all 4 exhibition categories: interRAMP (ground support equipment), interTERMINAL (technical terminal installations and services), interDATA (specialized hardware and software) and interDESIGN (architecture and furnishings). The latest solutions and equipment as well as innovative services for ground handling, terminal operations, airport IT and airport design are the main focus of inter airport Europe. This year, this is especially demonstrated through the new concept of the interconnected airport, which is currently an important topic in the airport industry.
Source: Mack Brooks Exhibitions Ltd